My oh my, it has been a busy April! In honor of Earth Day, I am sharing more of my favorite springtime therapeutic horticulture activities recently done with clients. Check out previous  spring activities here. Hope they inspire your work!
Kentucky Derby Floral Crowns
Fashion wire into a circle to fit your head and use floral tape to attach mini bouquets of cutflowers. Embellish with ribbon, feathers, wired butterflies and birds, and VOILA – you have a floral crown that honors the tradition of the fancy and whimsical hat fashions from the Kentucky Derby. We used a combination of fresh, dried, and preserved flowers and foliage. Since the Kentucky Derby was a couple of weeks away from the day of this program, I used everlasting flowers – which are flowers that hold their shape and color even after they have dried – so that program participants would still have beautiful headwear after some time had passed.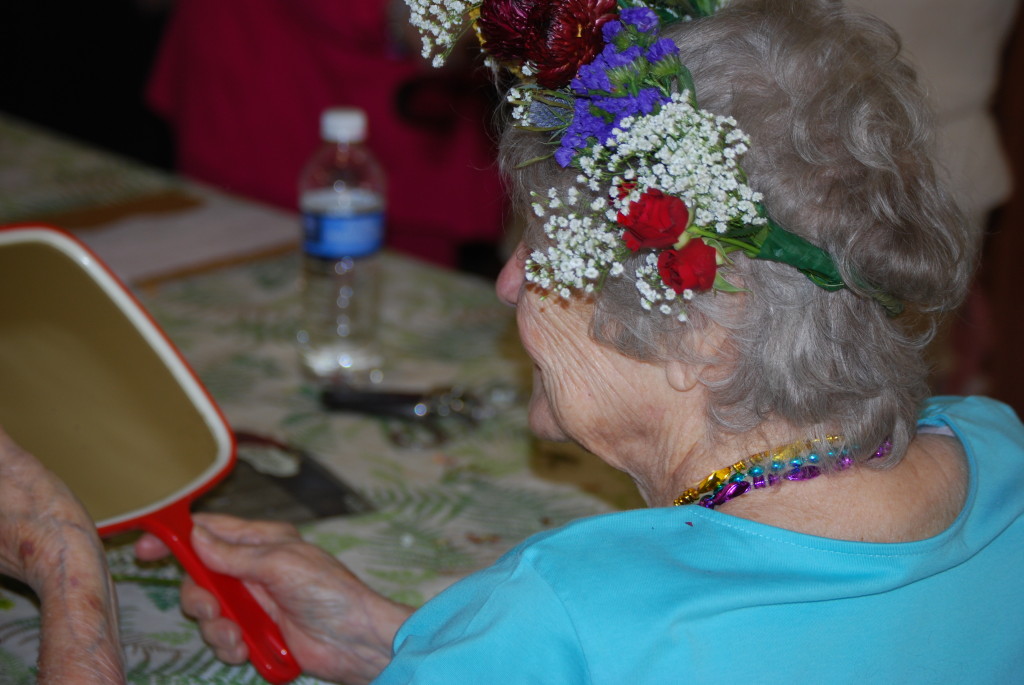 Here, I used purple statice, sea holly, baby's breath (I recommend using 'Million Star' with its large flower heads – I think it's the best variety of baby's breath for drying), strawflower, red spray roses (the red rose is the official flower of the Derby), goldenrod, yarrow, and preserved & dyed eucalyptus. [NOTE: When selecting plant material, be mindful of the toxicity of some of these plants, if this may be an issue with the group you are working with.] Some participants didn't want to make a crown so they made bouquets, floral arrangements, or mini wreaths. Don't forget to bring a handheld mirror so that participants can look at themselves wearing their handmade crowns!
During the program, we discussed the traditions and iconic imagery of the Kentucky Derby – mint juleps (I brought sprigs of mint to pass around), the garland of roses (red spray roses were available to include on the crowns), Twin Spires of Churchill Downs, the fashions of the hats and clothing, and Triple Crown. I shared Derby-themed fun facts and trivia. Some sources include KentuckyDerby.com and Wikipedia.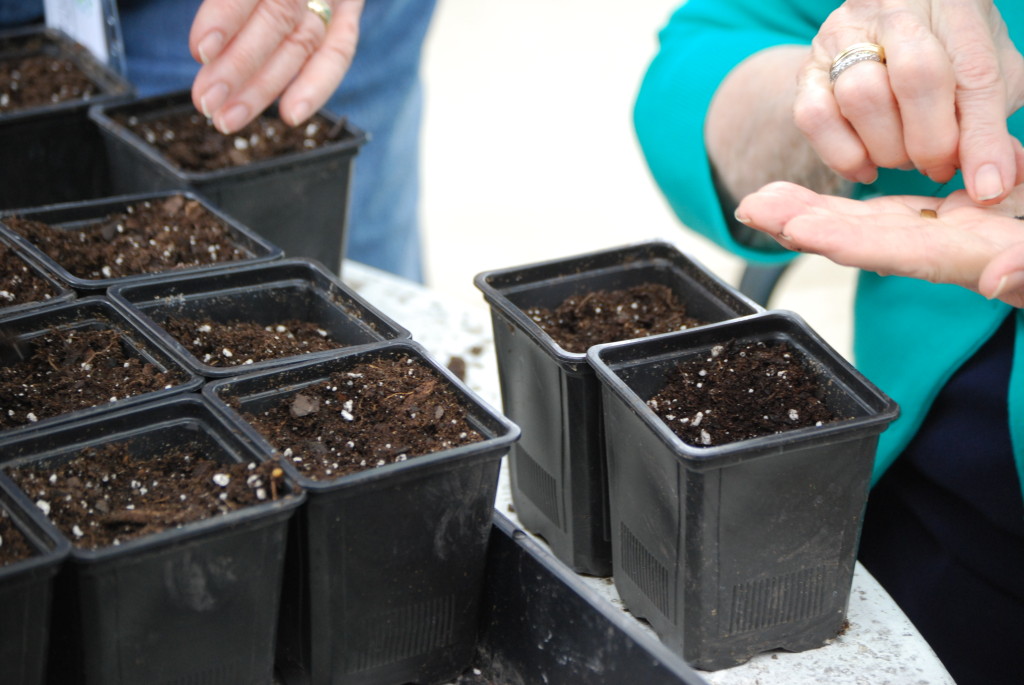 Seed Sowing
Seed sowing is among the most loved activities with my groups, and sowing sunflowers has become an annual event for one group in particular. I think many of the participants like to know that they are planting something so tiny for future benefits, as well as enjoying getting their hands immersed in soil – the phrases "play in the dirt" or "making mudpies" are often heard.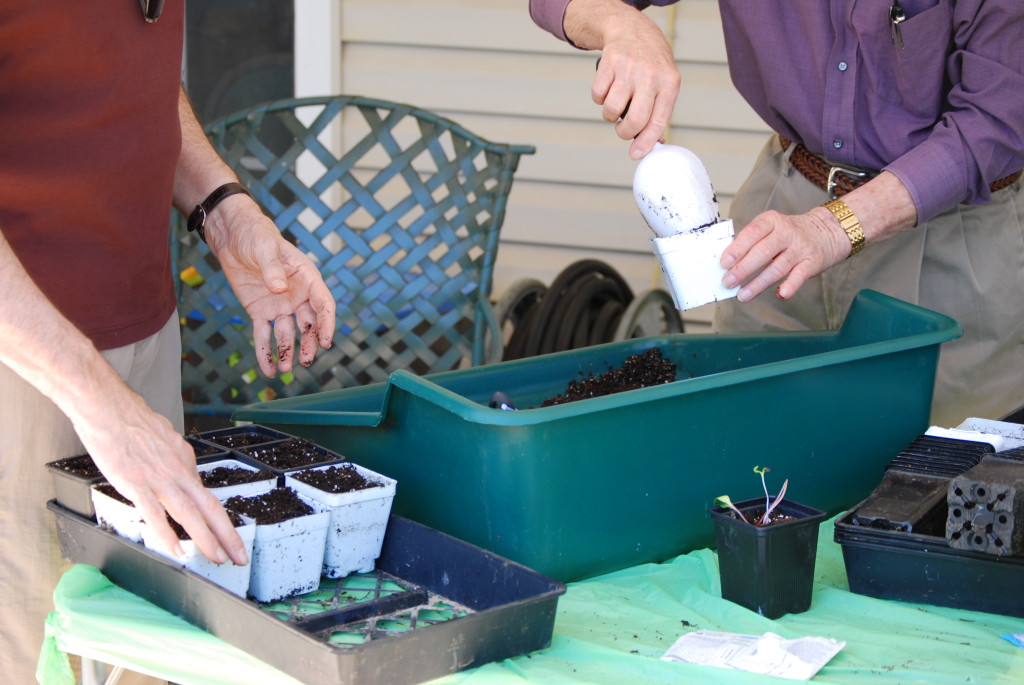 Other reasons: they enjoy the social and collaborative aspects of working with a partner to accomplish something important, like preparing the soil, filling pots with soil, and adding seeds to each pot; the "romance" of a sunflower, which, aside from the rose, is the most recognizable and embraced flower with elder clients; and the change in pace of the daily routine – how often do you get to go outdoors to "play" or stick your hands in soil?
In February we sowed nasturtium seeds, which are the size of peppercorns, and this month we planted the nasturtium plants out in the garden. In March and April, we have been sowing a variety of sunflower seeds for succession plantings. When the plants are ready, we'll plant them in the garden – hopefully next month. The larger seed, like nasturtium and sunflowers, are easier for many of my clients to work with than small seed. I typically save the smaller seed, like parsley, basil, and black-eyed Susan vine, for challenging the skills and tolerance levels of individuals who are higher functioning.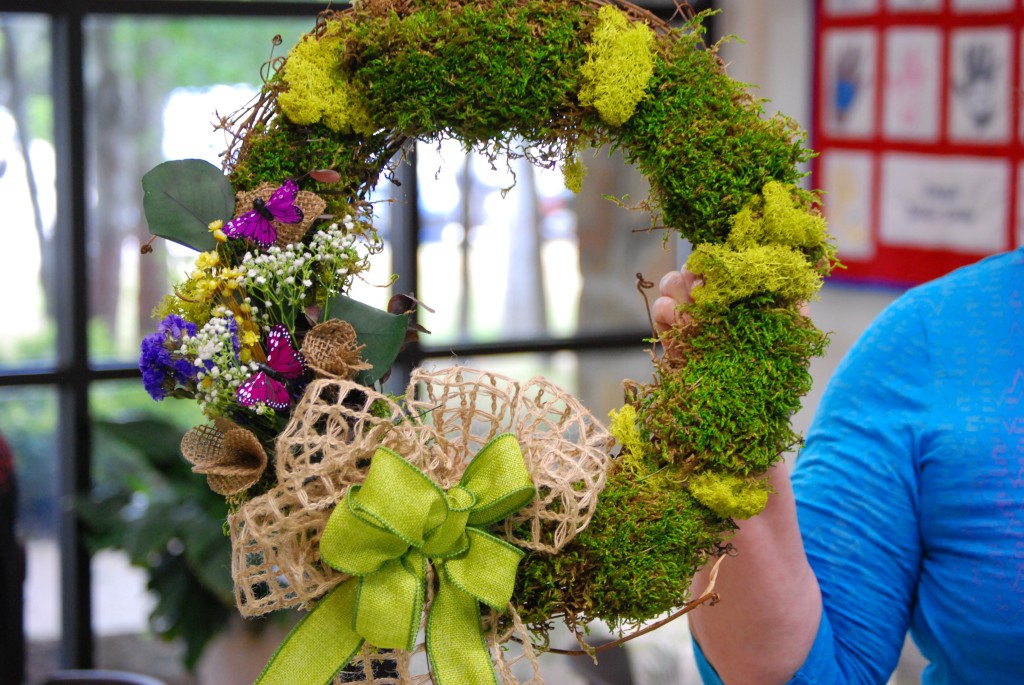 Spring Wreaths
Use various preserved mosses, wired butterflies and birds, dried florals, and ribbon to embellish grapevine wreaths. To help save on program costs, plan ahead.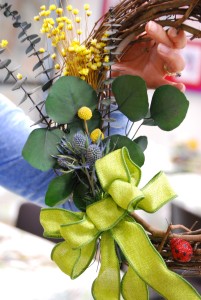 I buy wreaths, ribbon, and other materials when they're on sale. (I stock up on red, green, and other colors of ribbon after Christmas, when they're 75-90% off at my favorite craft store.) Or, I use my handy 40% off coupons at my favorite craft store – though, yes, it does require going into the store daily and using the coupon to buy one thing at a time. I also use everlasting cutflowers in other floral arranging activities and save and dry these flowers for future use. Even better, grow and harvest plant material from your own garden.
Outdoor Gardening
'Tis the season to be enjoying the outdoors! We have been busy planting a variety of seasonal annuals, herbs, and veggies.