The first day of spring is right around the corner. It is also Horticultural Therapy Week next week – March 15-21, 2015. So in anticipation, I thought I would share a sampling of activities that my groups have been busy working on already, as well as a few other upcoming programs. (I have planned tutorials for future posts, but please feel free to message me if you have a question in the meantime.)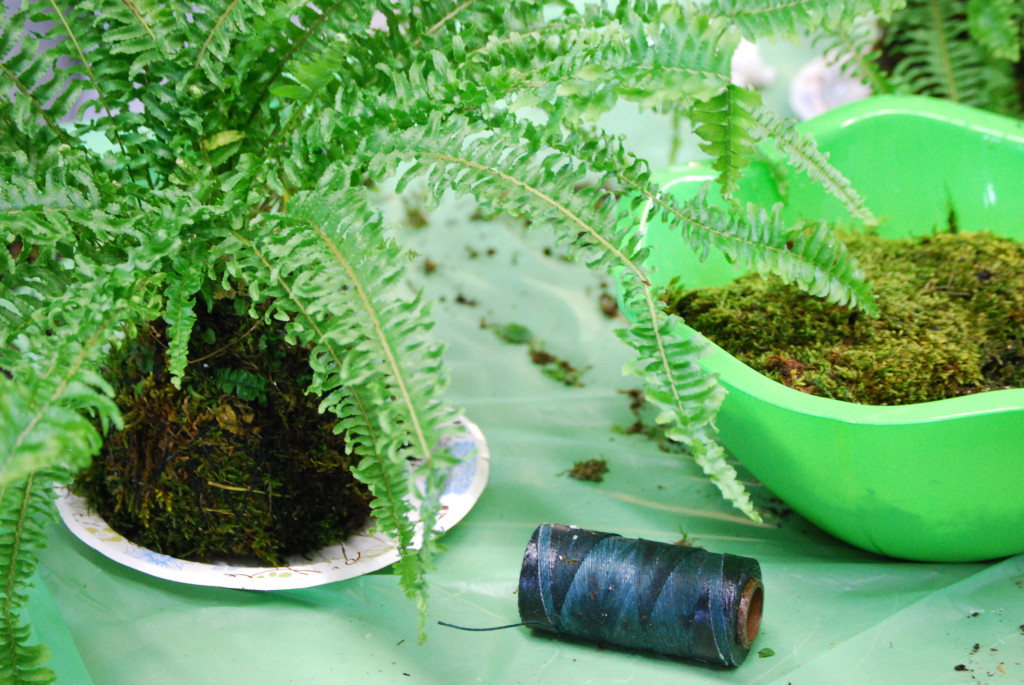 Kokedama
This form of wrapping a plant's root ball in moss is often referred to as the "poor man's bonsai." Instead of a fancy piece of pottery to contain the plant, wrap the root ball in sheet moss and secure with thread or wire. Kokedama translates to "moss ball." Check out this how-to from Bloom Zine, and learn more about the origins and practice of creating bonsai at Bonsai Empire.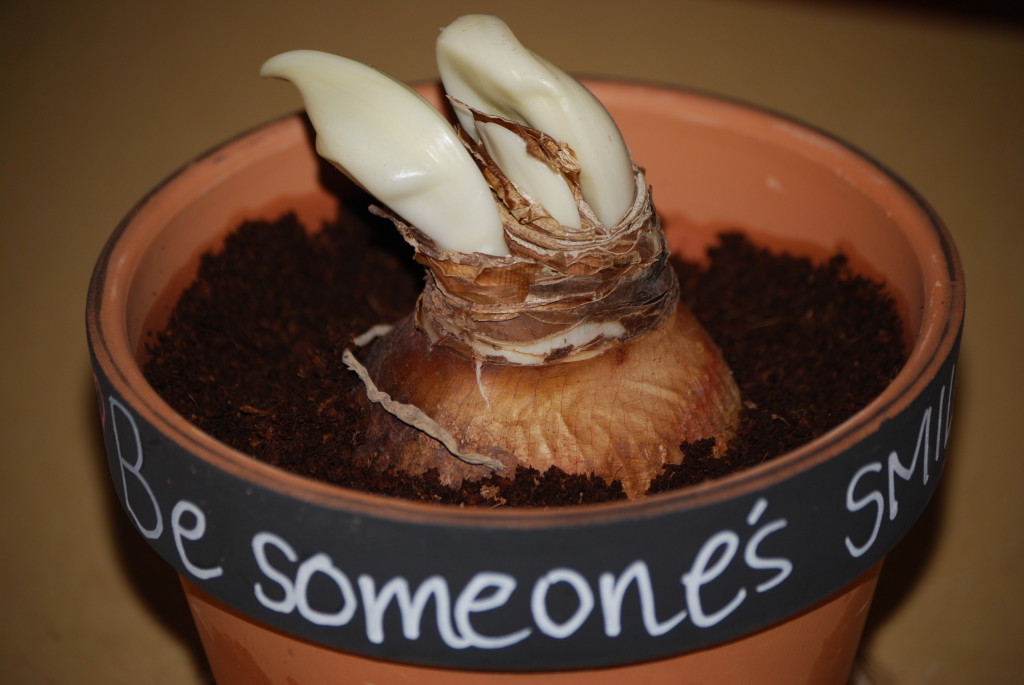 Planting Amaryllis Bulbs
The act of planting a dormant bulb, watering it, and watching the amaryllis' large flower stalk form over the period of a few weeks can be quite powerful. No instant gratification here – ahh, the anticipation of "When, OH when, will they finally bloom?" Though bulbs are generally sold at garden centers for indoor forcing between November through early January, some online retailers may still have inventory left – on clearance (which is how I was able to afford buying these puppies for programs). Bulbs forced indoors in late winter are enjoyed in early spring. When planting the bulb, ask participants to think about their hopes and intentions for the new year. They can write it down – right on their pot even(!) – discuss it openly with the group, or have a quiet reflection on their own. Then as the flower emerges then blooms, it is a frequent reminder to stay focused on the positive intentions sent forth earlier in the year…despite the possible distractions that have occurred since the initial planting. No bulbs available now? Plant seeds like sunflowers, watch them sprout, and then transplant outdoors.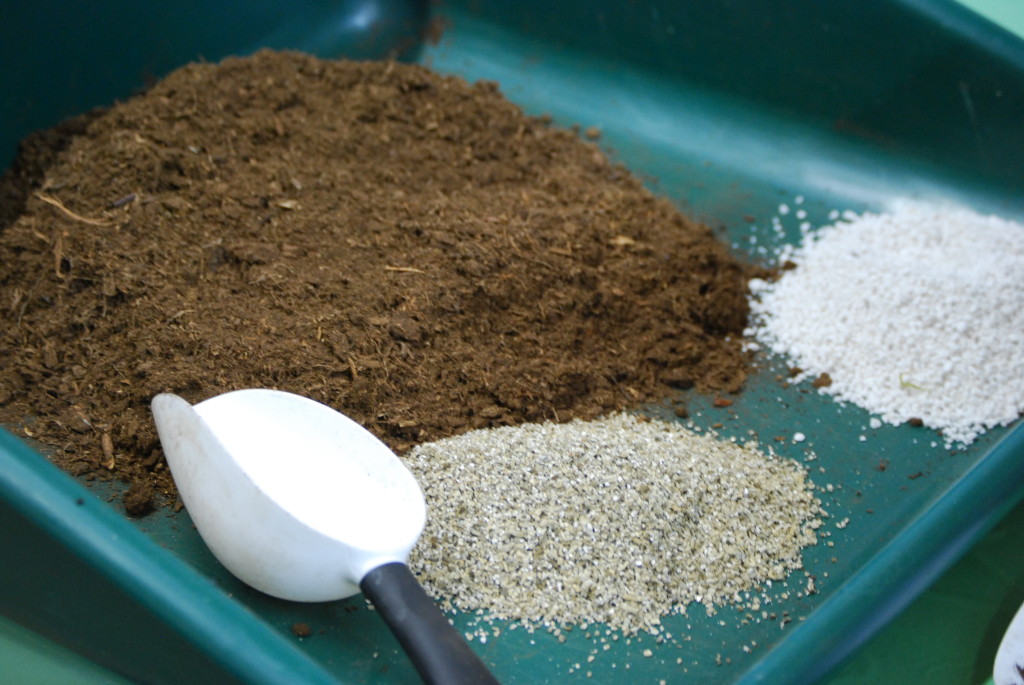 Soil Blending
OK, so mixing soil may not sound like an activity all on its own. But when carefully presented, it is an important one and can elicit wonderful responses from clients, including a recent exclamation from one of my elder clients, "Oh! We get to make mudpies?" As I say in all of my programs that incorporate soil and planting, the foundation of any successful garden is the soil. If you don't start your framework for the garden with a solid foundation – with proper preparation – then the plants added there are at a disadvantage and may not flourish as a result.
One more thing – have you ever worked with a compressed disk of coir fibers? Coir fiber disks often come with seed starting kits or bulb kits. They act kinda like those tiny pellets that you got as a kid and didn't know what they were. Then, when you added water, they transformed into dinosaurs or a Minnie Mouse washcloth before your eyes. Add a little bit of water to these coir fiber disks, and they grow into a tall cylinder of soil-like media, before caving in under its own weight. Even the most skeptical client is in awe of the process, trust me. I try to incorporate a sense of awe into each program and often ask groups – "Isn't nature amazing?" More to come on the transformative nature of awe and the healing power of awe, supported by recently published research in the journal Emotion.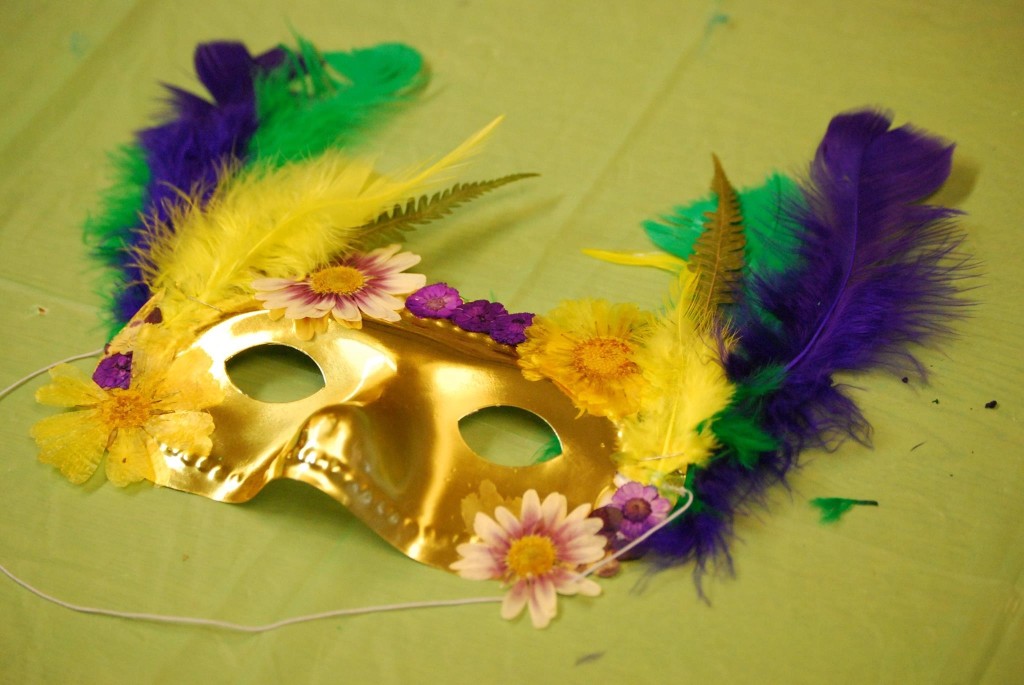 Floral Masks
Inspired by an awesome book and resource, A Calendar Year of Horticultural Therapy, by HT practitioner Janice Hoetker Doherty, I first did this activity with clients as a Mardi Gras related activity. I was really surprised by the response to this activity. The group loved looking at themselves, all masked up, in a mirror. They even held an impromptu parade through the building, singing "Take Me Out to the Ballgame." Pressed flowers were collected and pressed from the garden or purchased at my favorite website, Greetings of Grace (who, by the way, have an excellent customer service team and helped me out with my order in a pinch). Masks and beads purchased at Dollar Tree. Feathers purchased from the craft store. (I heart Hobby Lobby and their 40% off coupon that is bookmarked on my smartphone.)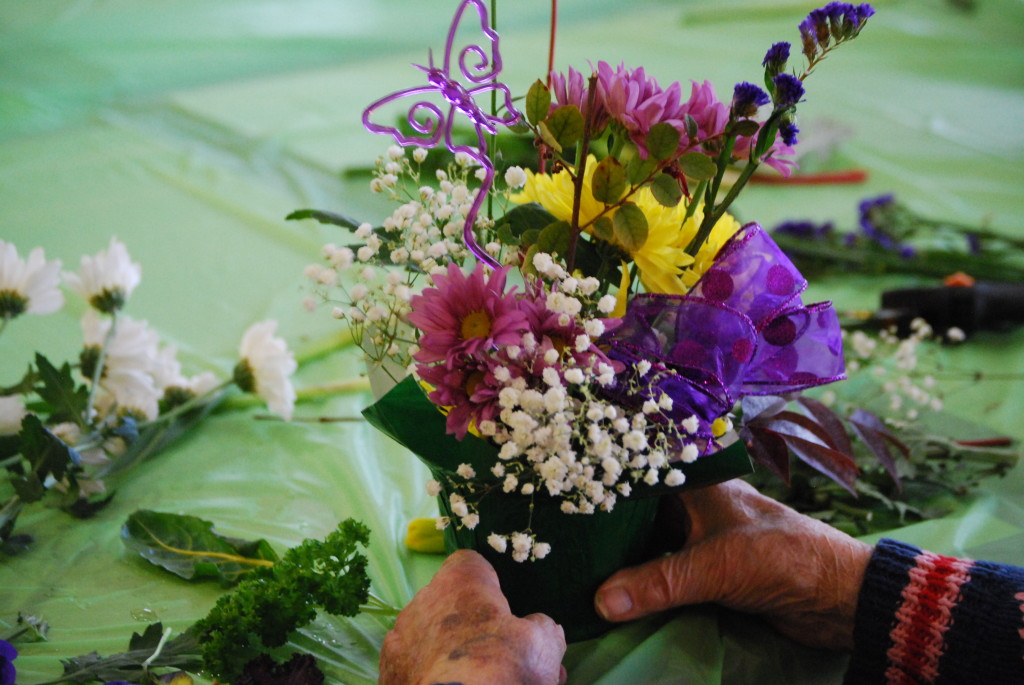 Floral Arrangements
Making arrangements with fresh cutflowers continues to be a favorite activity for many. Recently I decided to cut a few things out of my home garden to share with a group, in addition to materials purchased at my floral wholesaler. We remarked about the variety of interesting plants still showy despite it being late winter. Showy in my garden – hardy gerbera daisies (Drakkensburg daisy), Lenten rose, pansies, Swiss chard, ornamental kale, Chinese fringeflower, curly rush, Dusty Miller, parsley, nandina, cyclamen, rosemary, daffodils, to name a few. Some clients used the garden cuttings, with the storebought flowers, in their arrangements. Beautiful!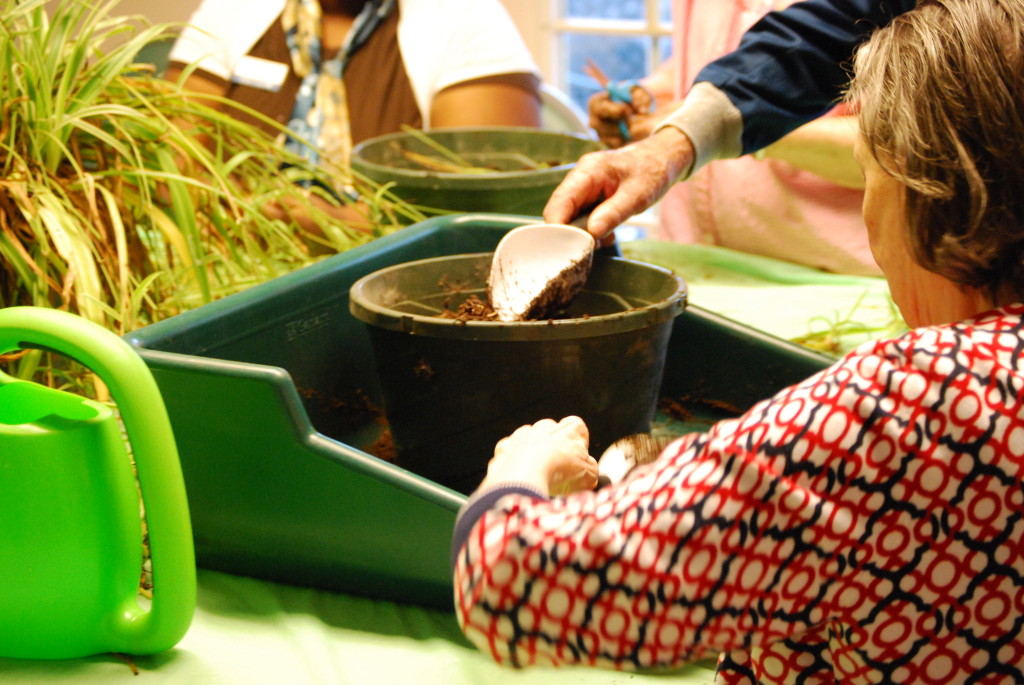 Garden Prepwork
Even though it may still be cold outdoors, we have many things we can do indoors to get ready for spring. We've been busy sowing seed in trays and transplanting spider plant babies into hanging baskets. Can't wait to put these out in the garden!
Other upcoming therapeutic horticulture programs include Spring wreath-making, hypertufa planters for succulents, fairy gardens,  teacup planters for Mother's Day, garden hat decorating with dried flowers for the Kentucky Derby, coleus propagation, and, of course, working outside in the garden.