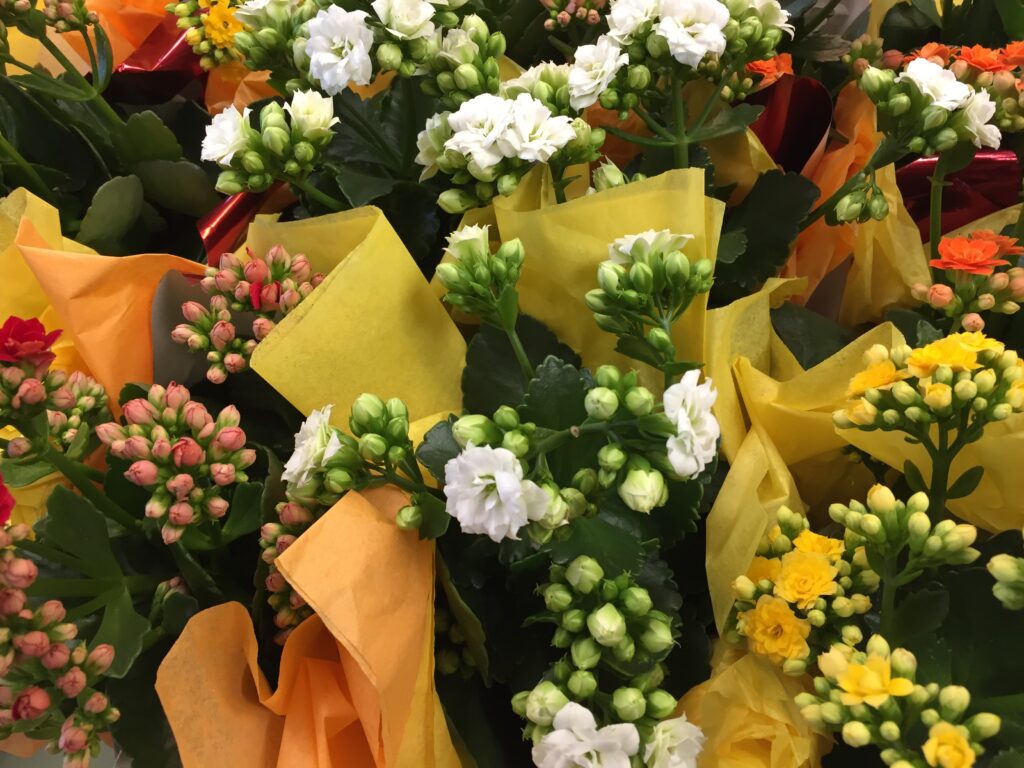 With therapeutic horticulture professionals in mind, here are some ideas on how to do plant- and nature-oriented activities using paper materials. This may be helpful when supplementing activities that utilize natural materials without potting media or live plants or looking for budget friendly alternatives to activity materials. The information in this blog post was featured in the fall 2020 issue of the Nova Scotia Horticulture for Health newsletter, "Digging In." Post written with input by Lesley Fleming, HTR.
Therapeutic horticulturists use a variety of materials for plant-based programs. Paper, a plant product, can be key components or supplemental accessory for hands-on activities.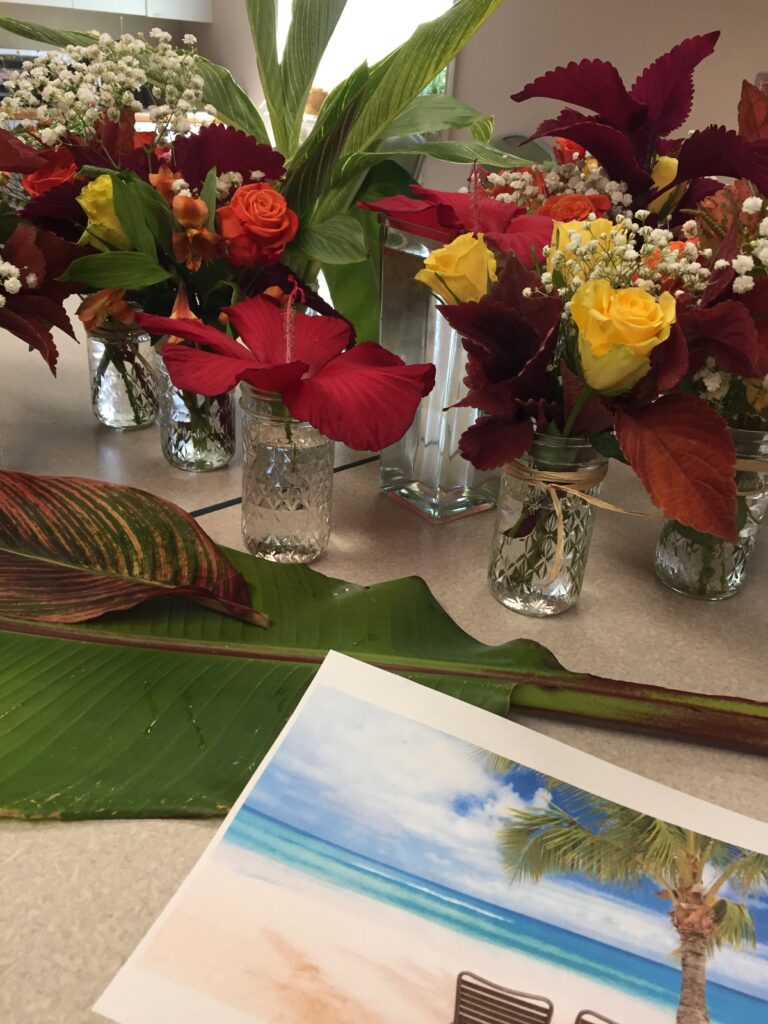 Plant photos – When certain plants or scenery are unavailable, pictures can be used to supplement the activity, particularly to show the context or location of a plant.
Leaf matching activity – Create a template tracing and copying uniquely shaped leaves like redbud, sweet gum, maple, oak, tulip poplar, ginkgo, and pine. Give each person a master sheet so that real pressed leaves can be fitted within the traced shapes. This works well with a range of cognitive abilities. Individuals with cognitive deficits are challenged to match shapes while others may be engaged to discuss the variety/shape/color of leaves.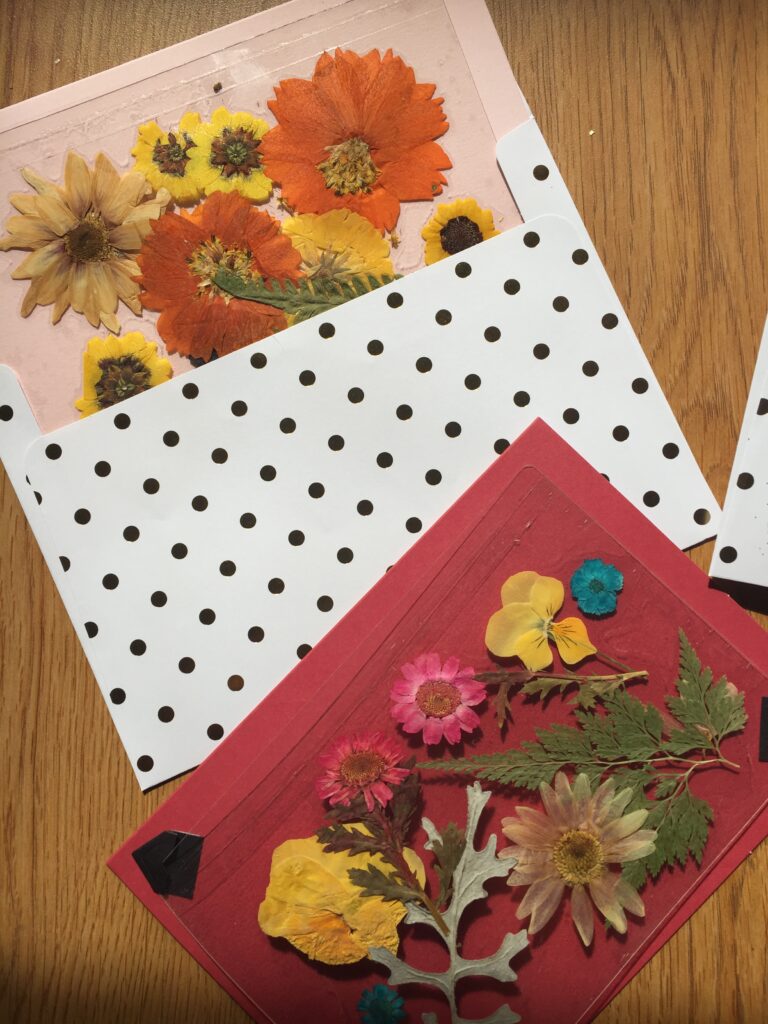 Pressed flower cards and suncatchers – Decoupage pressed flowers and leaves onto cardstock cards with deckled edge for Valentine's Day, Mother's Day, or other special occasions. Frame them with mats or inexpensive frames. Create bookmarks, mandalas, or "stained glass" patterns using self-sealing laminating sheets for art that glows backlit from sunlight when hung in windows.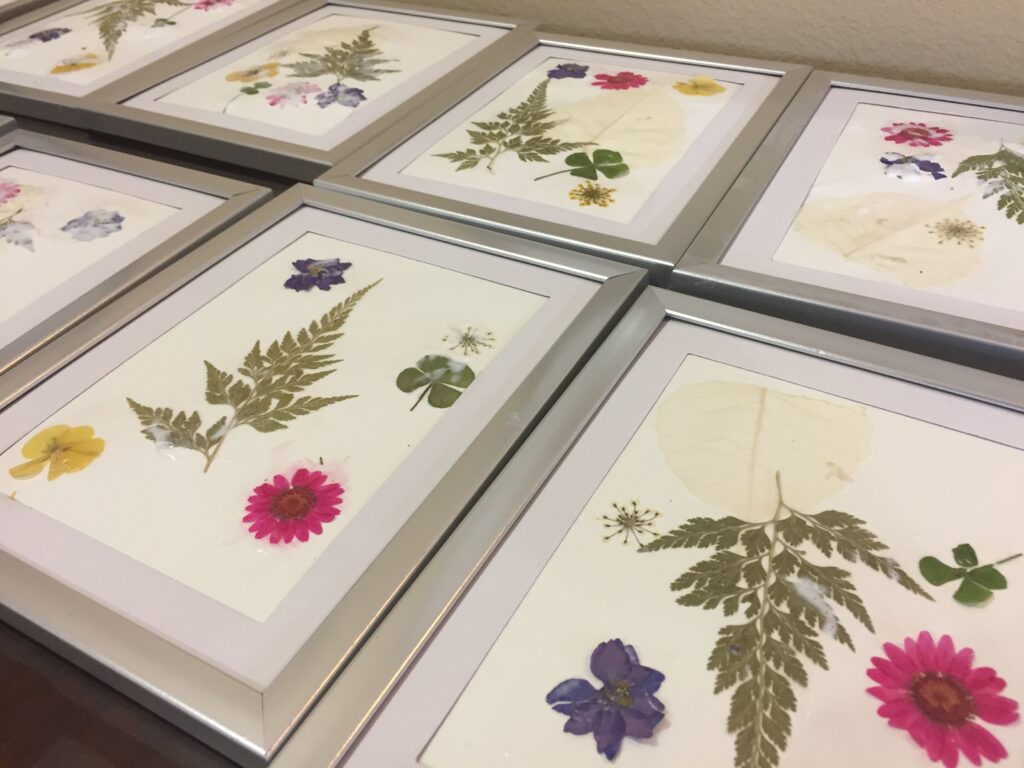 Inspirational quotes celebrating flowers that open and close each day – Flowers such as morning glories, four o'clocks, and night-blooming plants like evening primrose, cirrus and certain cactus provide an opportunity to discuss why some plants have these daily characteristics for pollination or energy conservation. Make pre-printed inspirational quotes about the moon available for pressed flower cards as an adjunct activity.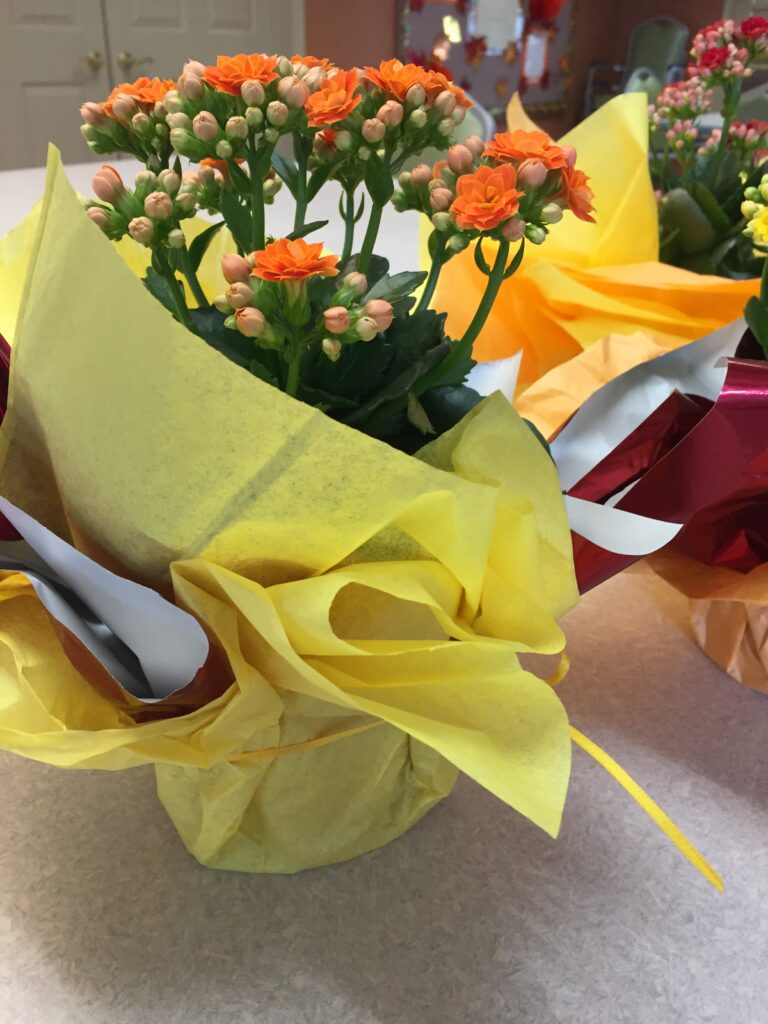 Gift it forward – Decorating small plants/flowers by wrapping them in tissue paper and tying with ribbon or jute can be an activity done individually or cooperatively with a buddy. Line tissue with waxed paper or cellophane wrap and cinch around plant. For facilities that prefer to have participants not take plants back to rooms, gather decorated plants into a large basket to display in a community gathering area for a few days, followed by gifting plants to loved ones for holidays, thank-you to staff members during Nursing Home Week. Purchasing a flat or six pack of flowers makes this activity cost effective.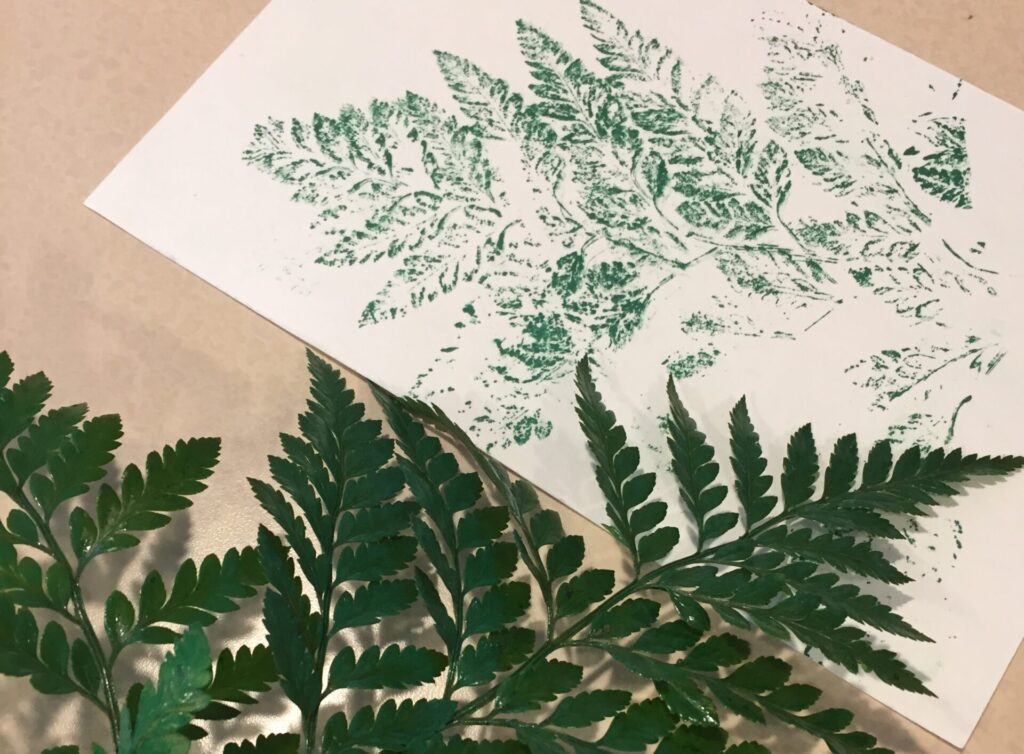 Flower and leaf printing – Cut flowers like daisy, buttons, or pom style mums can be dipped into paint, printing flower heads onto thick watercolor paper. Use leatherleaf stem from the grocery store florist to make leaf prints using stamping ink pads. To do, lay leatherleaf stem on paper towel or newspaper and press ink pad all over the top of the leaf, ensuring good coverage of ink on leaf. Turn leaf upside down onto watercolor paper, place paper towel or newspaper as blotting paper over top of leaf, and press firmly. Experiment with variations of this technique.
Paper quilt with flower prints – Follow flower printing session with a group activity to create a paper quilt using uniform sized paper, complementary or multiple shades of paint color, and construction paper border to unify flower prints together. Combine everyone's artwork and display both the quilt and paint-dipped flowers. Themes of Fourth of July and Christmas flowers can augment activities.
Bingo with leaf markers – Add zest to this popular game by substituting paper or real leaves as markers. Consider nature/garden related bingo cards.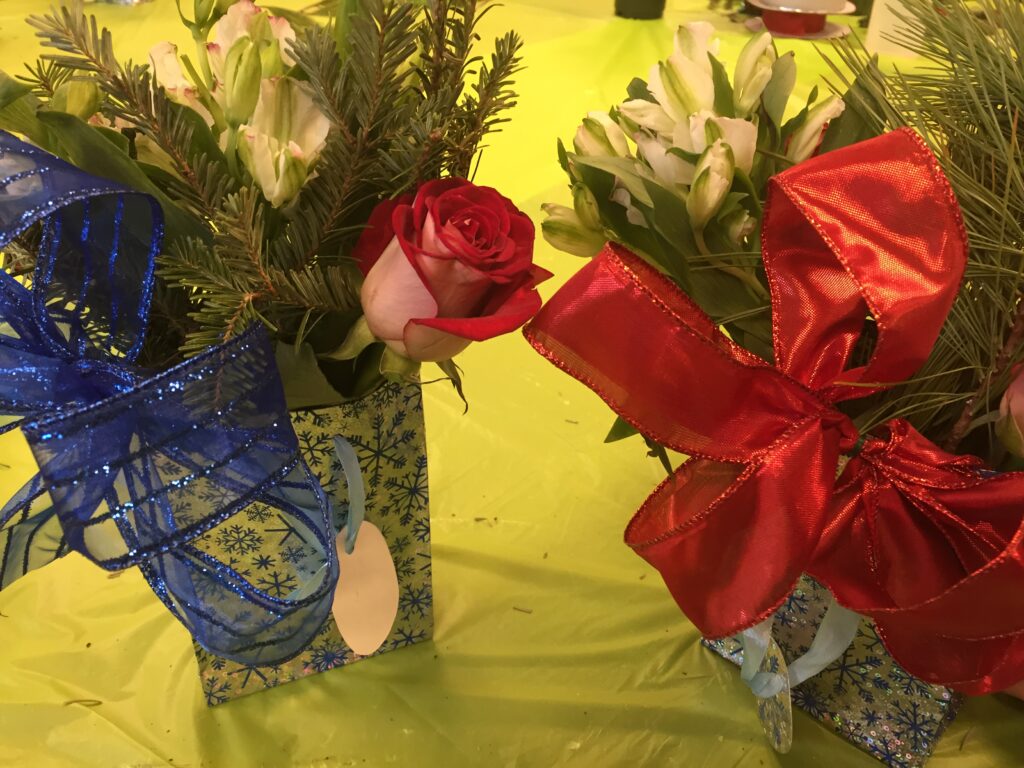 Paper bag vases for floral arranging activities – Use inexpensive paper gift bags as vases for a substitute to water filled vessels. This activity has several dimensions including applications for populations likely to spill water in vases or with restrictions using glass containers, flower arranging without water using cut greens, baby's breath, statice, and button moms that last a few days without water. For groups where water does not pose a challenge, place a plastic cup within gift bag for floral arrangements. Inexpensive ornaments can be added for extra flair.
Making houseplants and flowers out of paper – The internet, Pinterest, and numerous books offer instructions on making flowers and houseplants from paper (Handmade Houseplants: Remarkably Realistic Plants You Can Make with Paper by C. Hogg, Paper to Petal: 75 Whimsical Paper Flowers to Craft by Hand by R. Thuss). Position live inspirational plants and flowers in the table center to encourage participant creativity.