Not a professional floral designer? No worries! Create your own easy floral arrangements for Valentine's Day. Simply place a block of wet floral foam into this red pot sleeve and insert flower stems.
3.5 – 4″ round plastic pot
Red pot sleeve
Wet floral foam block, ideally presoaked in water
Tray for soaking floral foam
Watering vessel with water
Lettuce knife
Fresh cutflowers in Valentine's colors
Pruners or scissors
Valentine's embellishment, optional (I used heart floral picks from Dollar Tree – 7-count package for $1.00 – and card picks with Valentine cards purchased from wholesale floral supply.)
Step-by-Step Instructions
Fill tray with water, and soak floral foam in water for several minutes.
Once the foam block is fully soaked, use the lettuce knife to cut the block into quarters.
Insert the plastic pot into the red pot sleeve.
Take one of the four cut foam pieces, and shove the foam into the center of the sleeved plastic pot. Push the foam until it is level with the top rim of the pot.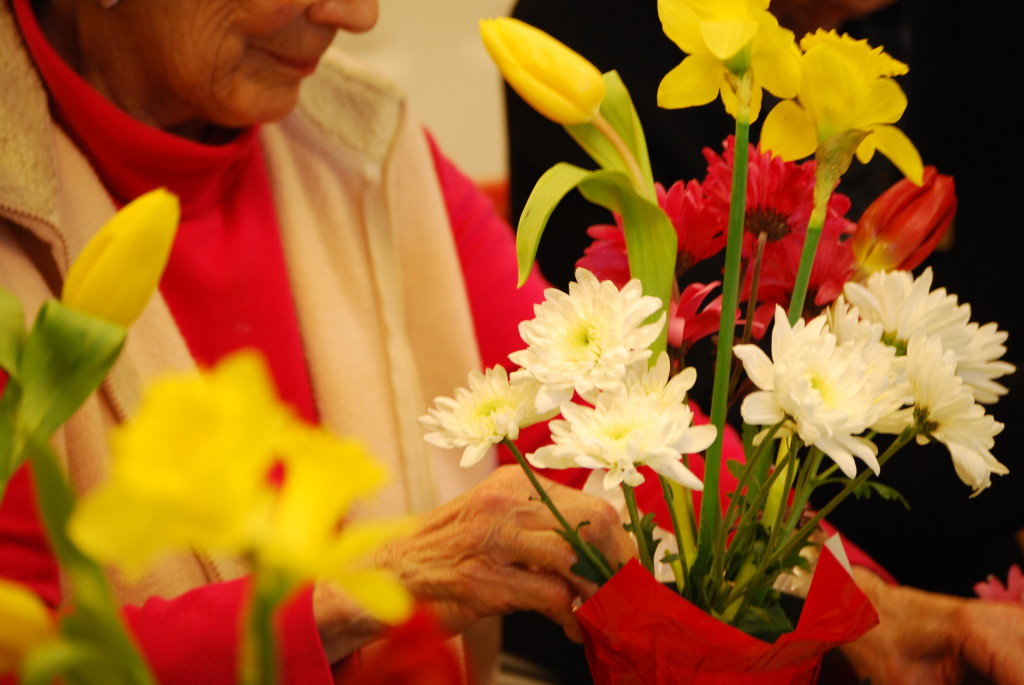 Cut flower stems and insert stems into the foam. Keep adding stems until arrangement is complete.
Optional step: Add Valentine embellishments to complete arrangement.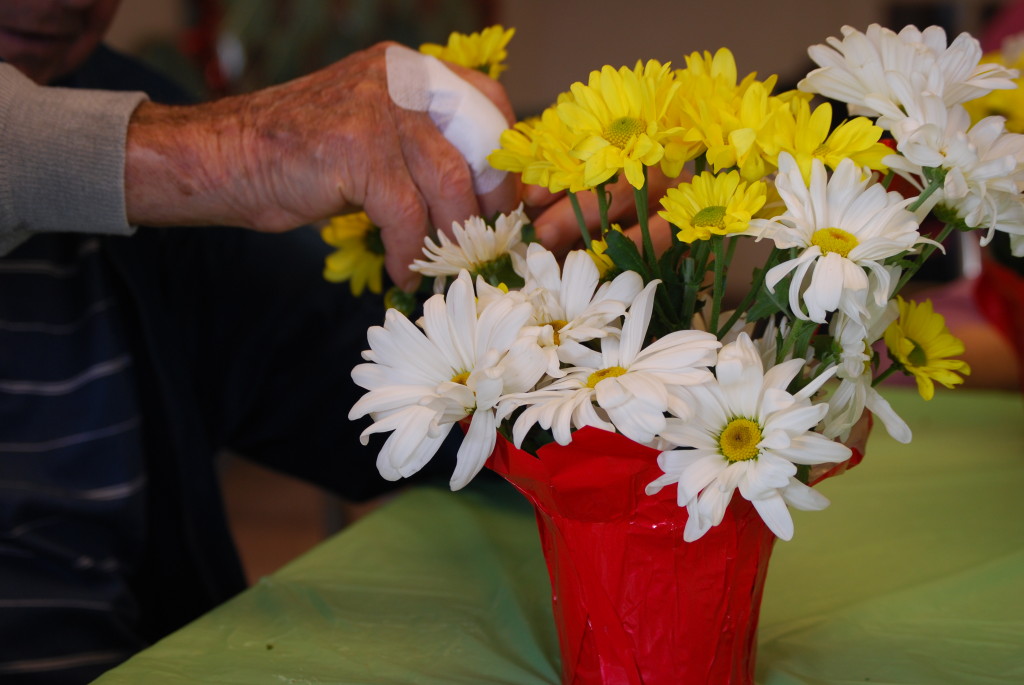 Notes for Horticultural Therapy Practitioners…
As mentioned in a previous floral design post, floral arranging is a high impact, quick results activity for clients and, as a result, is particularly rewarding for my groups in memory care. I am often able to entice reluctant individuals to participate by encouraging them to make an arrangement for a spouse, friend, or family member. Or, for those who don't consider themselves to be creative or talented enough to exercise their floral arranging skills, I offer assistance and work as part of a "team," with the client as "teamleader" or "supervisor," to complete an arrangement. With encouragement throughout the activity, even the most reluctant men, who have never made floral arrangements before and often "pooh-pooh" this type of activity at first, are able to successfully and proudly create their own arrangements. Sometimes the reluctant participants are the most proud of their final products.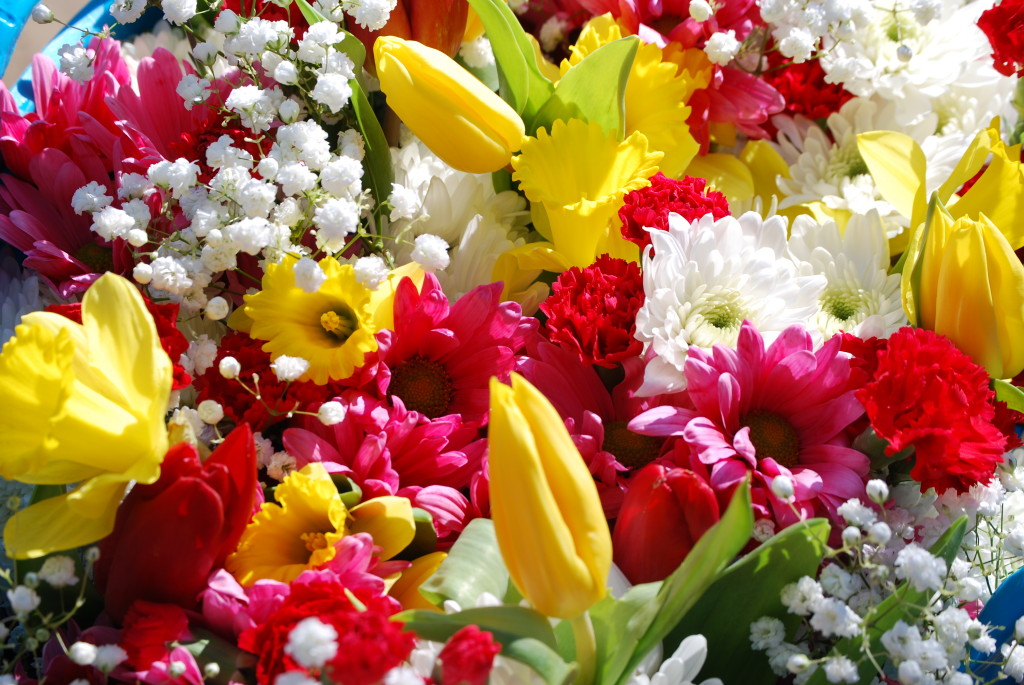 Contraindications
Use non-toxic flowers in situations where clients could possibly ingest flowers. Some of the flowers shown here, including Billy balls, daffodils, and tulips, may have toxicity.
Floral foam has toxicity – use with caution. Consider handling with plastic gloves. Other alternatives for making arrangements include floral frogs (which are typically reusable for future arrangements), pre-washed pebbles poured into the bottom of vase, and chicken wire cut to fit a vase. (*Special thanks to one of our readers, Pea, for offering these alternatives. Pea also recommends consulting the book, The 50 Mile Bouquet: Seasonal, Local and Sustainable Flowers, by Debra Prinzing, "for great information about using organic flowers and materials.")
Consider safety needs of clients when determining whether to use scissors, pruners, or none of the above. Use pre-cut stems or flowers that break easily with fingers.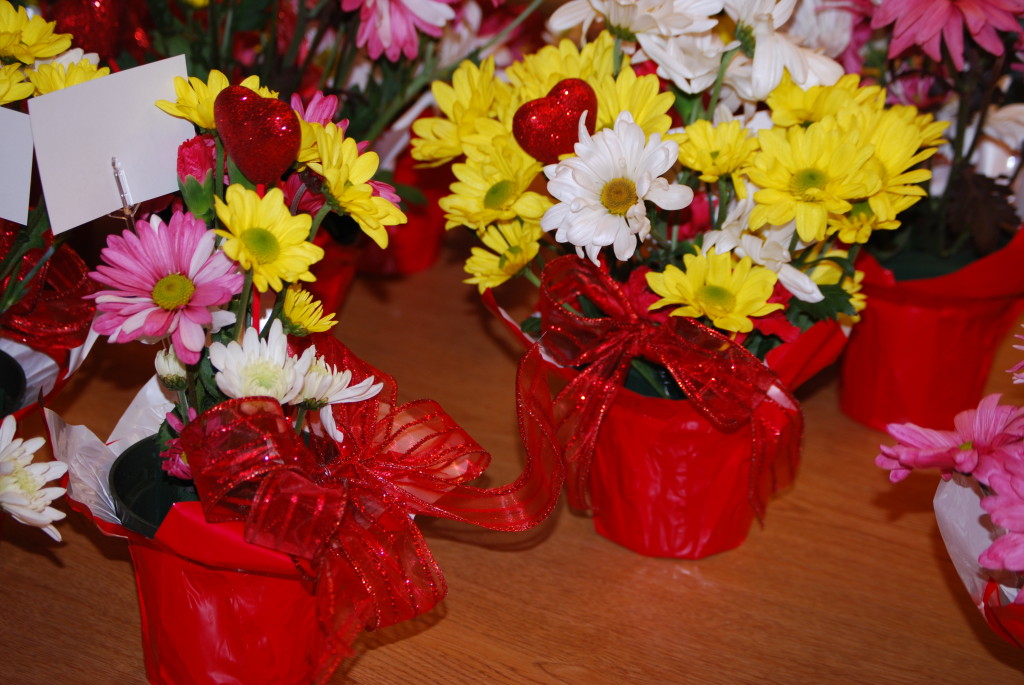 Program Notes
I usually place foam blocks in the bottom of the flower bucket. This way, the blocks are fully soaked by the start of the program.
Activities using fresh cutflowers can easily get expensive. See my Budget Buster Tips on how to cut costs below. I have also found that sometimes clients have a hard time sharing materials with each other. In some cases, this is a good exercise in encouraging clients to share and cooperate with each other. In other cases, I try to minimize opportunities for major clashing by pre-sorting and bundling flowers or posting a list with flower quantities allotted per person. With the latter, I may pre-sort the specialty flowers, of which quantities are limited, and give these bundles to each person, then the "filler" flowers, of which quantities are more abundant, are made available for all to peruse. In both cases, I encourage clients to share and swap with each other.
Transform this activity to a different season or upcoming holiday by switching up the colors of the pot sleeves or types of seasonal embellishments.
In order to set the tone for the session and encourage the group to open up and start talking with each other, I begin with this icebreaker activity using trivia about Valentine's Day. Each participant is asked to answer or, rather, guess the answer to one trivia question. In acknowledgement for their responses (correct or not), they win their bouquet of flowers or a heart pick to use in their arrangements. If individuals have already answered a question, then they get to pick which member of the group receives the "prize," which inevitably puts a smile on the face of the recipient.
Examples of prompt questions:
– What is the most popular flower sold on V-day? (According to 1800flowers, the rose – often named as clients' favorite and most recognizable flower.)
– How many roses are sold every year for V-day? (Approx. 189 million roses)
– What group of people receive the most valentine cards? (Teachers, then kids, mothers, wives)
– How many valentine cards are exchanged each year? (Approx. 1 billion cards)
– St. Valentine is the patron saint of lovers. To what else is he patron saint? (Beekeepers, epilepsy, plague, fainting. Read here for more info.)
– When was the first Valentine sent? (1415; by Charles, the Duke of Orleans, who was imprisoned at the Tower of London, to his wife. Charles' valentines are now at the British Museum. Read here for more info.)
– In what part of the state is the town of Valentine, Texas, located? (Located in west Texas, about 2 hours south of El Paso. Population in 2010 census: 217. This question affirms state pride and grounds clients in their location.)
– How many people participated in the world's largest group kiss? (On V-day 2010, 39,897 people participated in the largest group kiss in Mexico City.)
Other interesting trivia:
– 1st American valentine is attributed to Nyer Robert Elton in 1834.
– The red rose is the flower of Venus, Roman goddess of love.
– California produces most of the roses for the United States.
– The tomato is supposedly known as "the love apple."
– The shelf life of conversation hearts is 5 years…if they aren't all eaten before then!
Or, ask clients to name famous couples in history, such as Cleopatra and Marc Antony, Romeo and Juliet, Mickey Mouse and Minnie Mouse (thanks to Isabella for that one!), Scarlett O'Hara and Rhett Butler, etc.
Prompt questions inspired by Random Facts and the Examiner.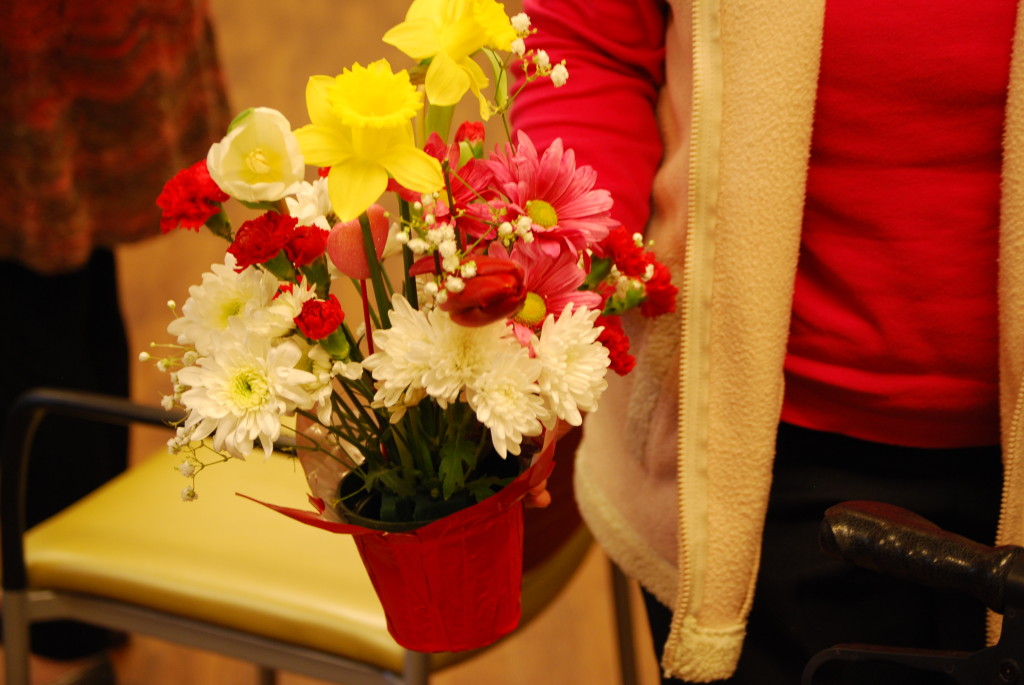 Budget Buster Tips
When I splurge on certain items for floral arrangements, such as higher priced specialty flowers, floral picks, and bows, I save in other places, such as using recycled pots, cheaper cutflowers, or spray painted "fillers," like twigs. In my experience, the different types of mums (notably those referred to as "poms") and mini carnations (not the "regularly sized" carnations) are consistently the cheapest flowers. Or, I use flowers that are "everlasting," like statice, baby's breath, and yarrow, so once the flowers are past their prime and dried, I can reuse them for a future program, therefore justifying their added expense. If you can harvest flowers and foliage from your garden, even better!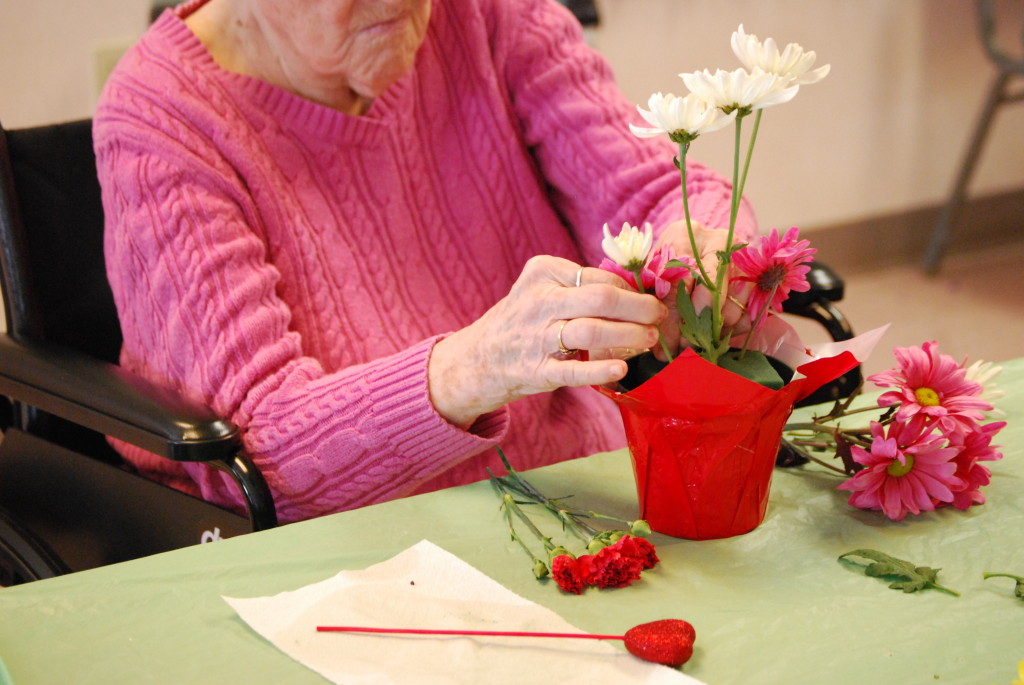 When using flowers purchased at my wholesale supplier, I always pre-cut the stems, not just to keep them fresh, but also to cut the flowers to be more in scale with the size of vase being used. From personal experience, I have found that many clients, no matter their functioning or skill level and my guiding instruction, often cut only about two to three inches off the stem, if at all, before they insert the stem into the arrangement. This can get tricky when you have a stem that is 20 inches long – subtract three inches, and you have 17 inches of stem being placed into a six-inch-tall arrangement – yikes! The longer the stems, the more flowers that need to be used to fill out that vase. The shorter the stems, generally speaking, the less flowers needed.
When possible, have clients work in small teams to create a group arrangement.