Many thanks to those who attended my session at the American Horticultural Therapy Association annual conference in Portland, Oregon! I presented a lot of information but wasn't able to get to explain the task analyses, supply lists, or nuances of delivering the activities. Over the next few days, I will be sharing a sampling of nature based therapeutic activities and will hopefully be able to share enough of the details to illustrate each activity. So keep checking back with us!
"Reinventing the Wheel"
I'm constantly challenging myself to reimagine some tried-and-true activities, like seed sowing, so each activity's delivery is fresh and interesting for clients, as well as myself. So I bring seed sowing outdoors and offer it as an alternative to engage clients who prefer something besides planting the raised bed. Or experiment with sowing new seed we've never grown before. Or mix it up by using different types of pots – peat pots, 4″ square pots, round quart pots, and more. Or arrange seed and recycled flower petals from yesterday's floral arranging session to make finger labyrinths on the tabletop.
Budget Busting Tips
I present a variety of activities on this blog and invest in materials that reflect the quality of my company's services and brand. There are ways to keep supplies from getting too expensive – via thrift shopping, shopping sales or seasonally, recycling items, swapping items for inexpensive items, growing or producing your own items in the garden. I love analyzing a photo of an activity product on Pinterest and dissecting it for the supplies needed to make the product…and then get creative on what to use in delivering the activity. Be on the lookout for tips throughout – you can check out some budget busting tips on the activities found here and here.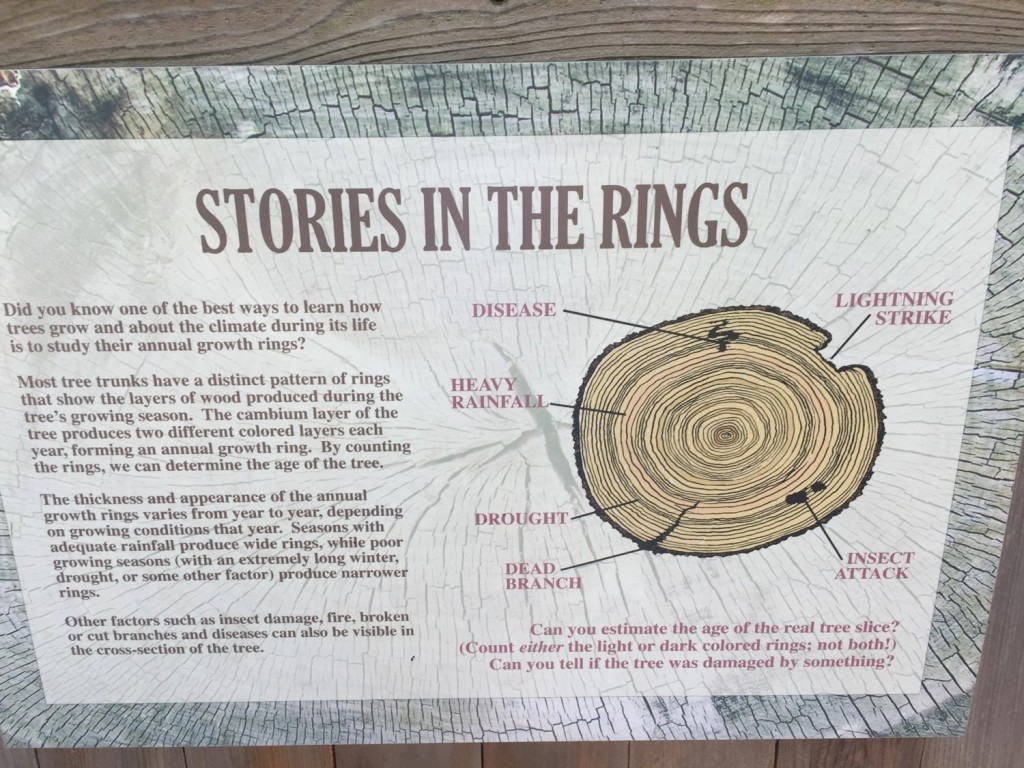 A Tree's Story, as told by the cross section of tree's trunk
Dendrochronology is the scientific study of tree rings to analyze climate changes, environmental conditions, and other events in the past. I first heard about dendrochronology in college when my husband participated in a research project studying the fire history of certain areas of Appalachia with his major advisor. My interests were piqued when he said the dendrochronologist had examined the wood of a rare violin made by Stradivari in order to better tell that instrument's story. In studying tree rings, we can tell a lot about a tree's history. First, by counting the number of rings, one can tell the age of the tree. Then measure the distance between each set of rings – during periods of drought, the rings are close together as the tree didn't have all the moisture it needed in order grow very much that year(s). During periods of adequate rainfall, the rings are further apart, meaning the tree utilized the abundance of moisture to grow a lot. Certain blemishes on the tree's cross section can also tell the damage caused by insect pests, disease, or fire. The wheels are already turning in my head about how we can relate a tree's story to one's own personal story – identify times of positive personal growth or challenging times, such as illness or difficult life events. This can be a powerful metaphor for those dealing with trauma or illness. I blogged about using this activity with a group of women who are refugees resettled to the U.S. from Afghanistan.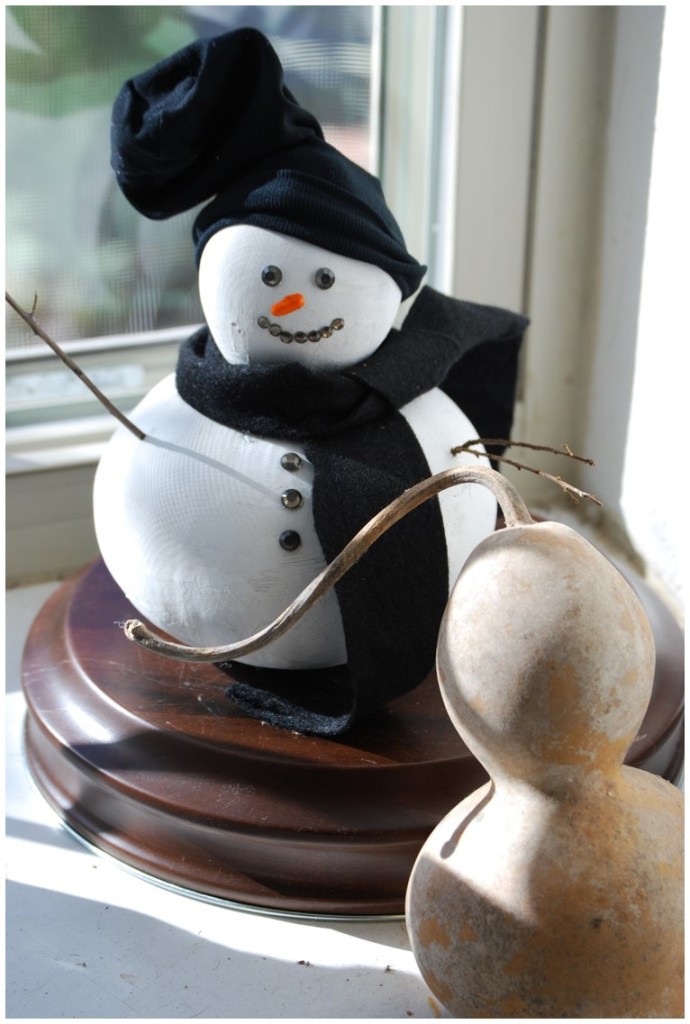 Oh the variety of gourds there are! What a sensory experience! You've got caveman club gourds – they look like a caveman's club! – or birdhouse gourds – yes, you can transform them into birdhouses for our feathered friends – or apple and pear gourds – they resemble the fruit they're named after – or loofah gourds – I originally thought loofahs were sponges from the sea, but nope, they grow on land. Google gourd art, and you'll be inspired by the creative artists out there who have transformed hard shelled gourds into penguins, the Grinch Who Stole Christmas, and other forms of painted or woodburned pieces of art. I've even used puffy paint (also called 3-D paint) to embellish gourds. Check out how to make this snowman gourd.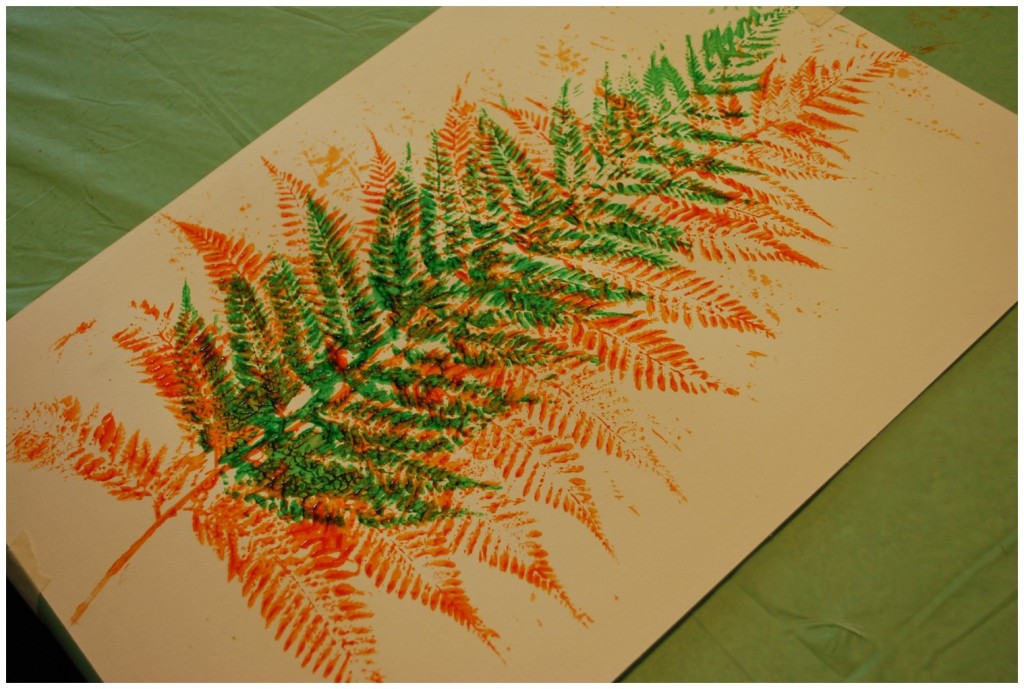 Fernleaf Prints
Ferns are a fascinating and diverse group of plants. They are primitive and prehistoric plants that reproduce through spores – no flowers or seeds here. There's Japanese painted fern, Autumn fern, Christmas fern, holly fern, Australian tree fern, maidenhair fern, lady fern, wood fern, tassel fern, sword fern, shield fern, bird's nest fern, rabbit's foot fern, staghorn fern, and much more. Some ferns have straplike leaves, some have waxy leaves, others have fine and delicate leaves, some have giant leaves. Some have hairy stems and rhizomes. You must check out Oriental chain fern (Woodwardia orientalis) and its reproductive methods – so cool! Have samples of various ferns – cuttings or live plants – on hand to compare and contrast leaves. You can use these leaves to do a matching game or make leaf printing art. Include ferns as part of a study of prehistoric plants, along with ginkgo, Wollemi pine, cycads, bald cypress, and horsetail (Equisetum). Check out these articles on prehistoric plants by Kids Gardening and the Eden Project.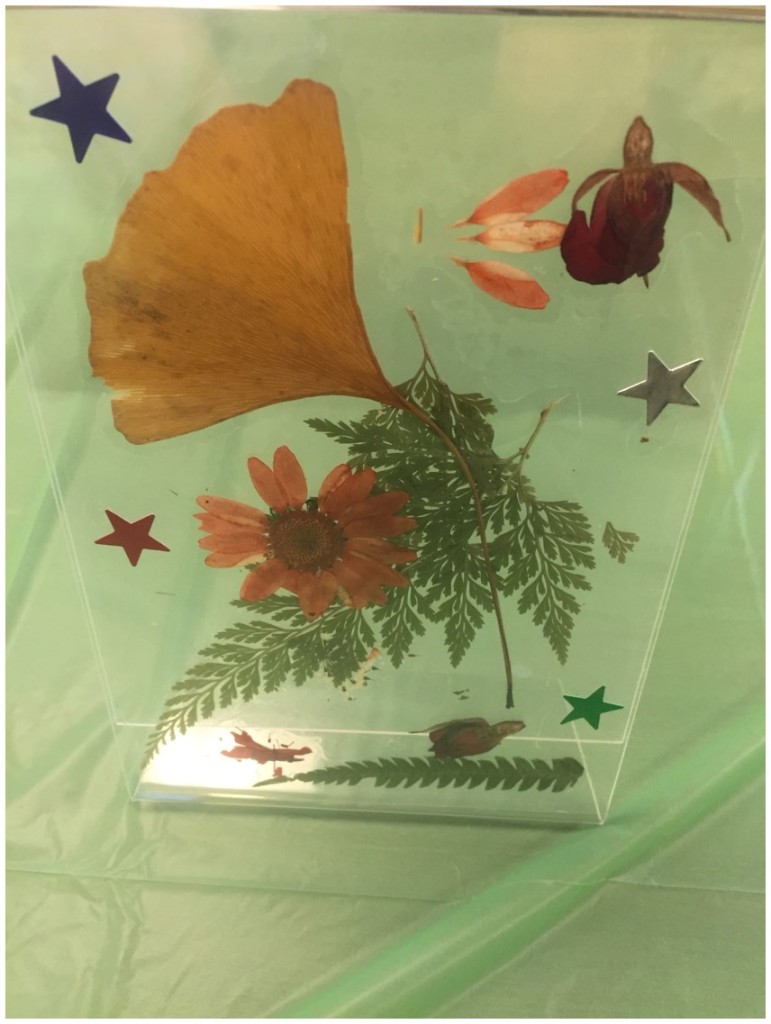 The phrase "Dog Days of Summer" is derived from the Greco Roman beliefs around the meaning of the dog star Sirius' position in the sky and the coincidence that this event occurs during the hottest part of the summer. (Read more about here.) During this activity, we talk about the dog star Sirius and analyze its position in Orion's belt and nearby Canus major and Canus minor with pictures or illustrations used as visual cues. We discuss stargazing and astronomy. We read the imagery and imagine the sensory experience of this poem by Marilyn Lott. Then, we use clear self sealing laminating pouches to arrange pressed flowers and star stickers for a "Dog Days of Summer" suncatcher. (Shown here in a clear acrylic photo frame.)
Keep checking back as we update this post!