Continuing along on our last post, A Roster of Nature-Based Activities, Part 1…about pollinators, herbal monograms, and kissing balls. (Images for visual cues found here – butterfly life cycle and monarch migration map.)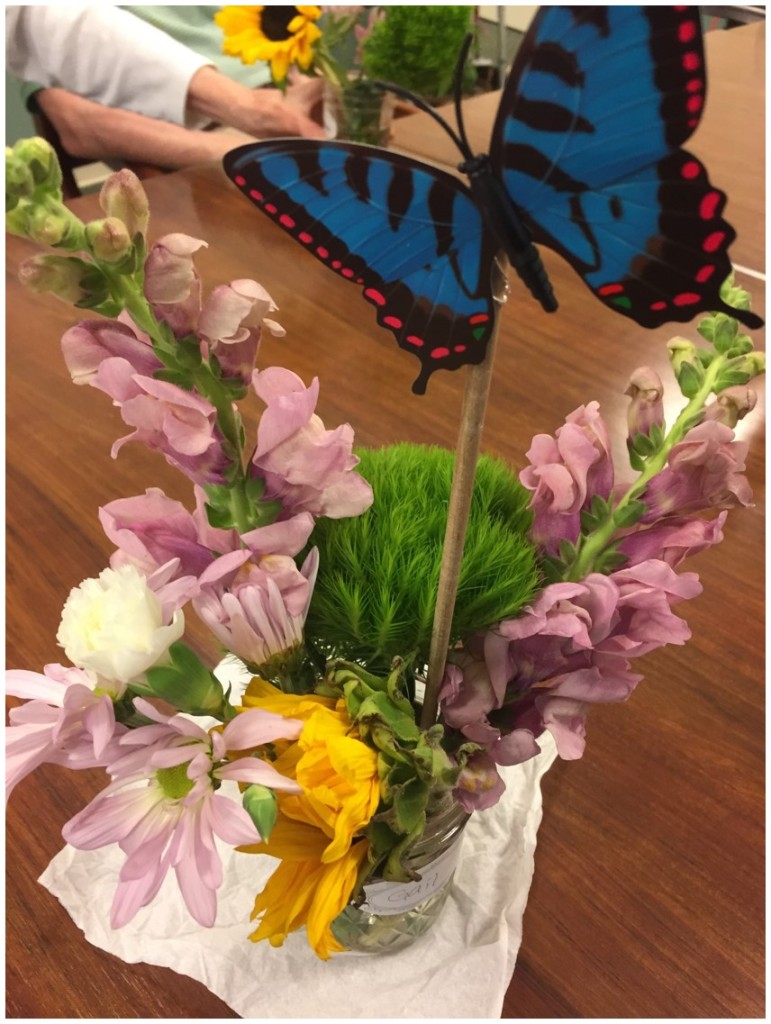 Pollinators
In September, we had an in-depth conversation about pollinators. (This conversation can be discussed at other times of the year.) For some groups, we explored a variety of different pollinators – butterflies, bees, flies, bats, moths, wind, water, humans, and more. We discussed how plants have adapted to attract different pollinators. The USDA Forest Service has an excellent online resource about plant pollination strategies – it's an interesting read and can inspire a variety of interpretations on the relationships between plants and their pollinators.
Here are a few examples of topics we discussed during these sessions:
Orchids attract different pollinators in a variety of ways – from flower shapes and colors to differing aromas. The bee orchid (Ophrys apifera) looks and smells like the female of certain types of bees, attracting male bees who come to mate with the flower. Read more here.
Many flowers have ultraviolet colors on them to attract bees who can see these colors which are otherwise invisible to the human eye. It appears as though some flowers have an ultraviolet "bulls-eye" at the center of the flower, inviting the bees by saying "Land here! Land here!" Read more here.
The shapes and colors of some flowers, like salvia and beebalm, are designed to attract hummingbirds and butterflies. Read more here.
And it is thought that certain beetles or possibly flies can't get enough of the rotten meat smell emanating from the giant corpse flower, or Titan arum (Amorphophallus titanum).
The Monarch Butterfly
During some of these sessions, we focused on the interesting story of the monarch butterfly – its journey across North America twice a year as it winters in certain regions of Mexico and summers in the United States and Canada. (Google images of the monarch migration and you will find some beautiful photos of trees full of butterflies.) We examine my collections of mounted native and exotic butterflies, including monarchs, swallowtails, and even the blue Morpho. (I don't endorse the purchase of insect collections as art. You can substitute photos of different types of butterflies, as necessary.) We admire the different colors and patterns on the butterfly wings. We imagine how much they weigh.
Then ask "Can you imagine what it would be like for a monarch butterfly to fly 2000 miles across a continent?" "What must that feel like?" "Can you imagine walking 2000 miles yourself – without a car?" Inevitably there is conversation about stopping off at a rest stop during a long journey – "what do you do at a rest stop?…Eat, sleep, go to the bathroom, stretch our limbs, and more." We discuss strategies about how we can invite butterflies to use our garden as a "rest stop" or a place to live during the summer. We examine the butterfly life cycle and talk about incorporating host and nectar plants into the garden that invite butterflies at all stages of their lives. President Obama has been working in connection with the leadership in the U.S., Mexico, and Canada on a plan to protect pollinators, including an initiative to declare Interstate 35, which runs through Dallas, as a "pollinator highway." If we don't have a garden to plant with host and nectar plants, then we may make floral arrangements using some of these host and nectar plants.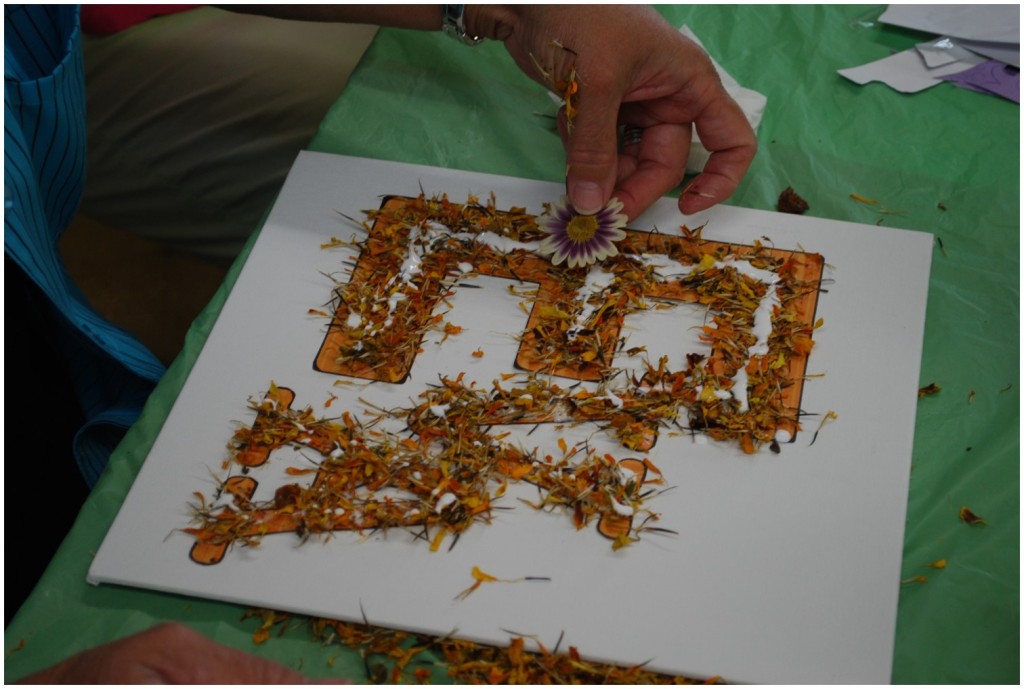 Herbal Monograms
To provide opportunities for clients to make personalized art, consider making monograms with pressed flowers and dried naturals. Trace stencils of letters from the alphabet onto watercolor paper or artist canvas panels. Fill in letters with paint or other colorings. Apply glue and add floral and natural materials to embellish. You can use leftover flower petals from a floral arranging activity. Or harvest marigold flowers from the garden, tear apart the petals from the flowers, and dehydrate the petals (I use a food dehydrator). Once dried, the marigold petals keep their color and are great to use in an art project like this.
Kissing Balls
No more (parasitic) mistletoe…kissing balls offer a romantic alternative activity to making wreaths or swags in winter. Clip greens from evergreen trees and shrubs, like boxwood, holly, spruce, pine, juniper, and more, considering the variety of their textures and colors as well as their toxicity. Purchase wet floral foam balls (I used Oasis brand), presoak in water, tie on a long piece of ribbon to be used as a hanger, and then insert greens.