As a therapeutic horticulture practitioner, I find it invaluable to network with professionals who incorporate horticultural therapy or therapeutic horticulture into their work, as well as with others in allied professions, such as occupational therapy, social work, therapeutic recreation, art therapy, animal-assisted therapy, music therapy, horticulture, and more. It can be lonely and unchallenging to work in isolation, so I have developed friendships and working relationships with these professionals and enjoy the shared camaraderie, experiences, and brainstorm sessions. These relationships inform my work and help me to stay relevant and on track.
How do I connect with these folks? Get involved with professional organizations, such as the American Horticultural Therapy Association, and attend their annual conferences and continuing education opportunities. And I don't just focus on HT-related organizations. For example, the Garden Writers Association has helped me to hone my communication and business skills. Reach out within the community and seek out like-minded people at wellness fairs or other community organizations. I find out about interesting individuals from the newspaper or colleagues and "cold call or email" them in order to connect. Form your own official or unofficial regional network of professionals, such as the Michigan Horticultural Therapy Association.
So in honor of networking within horticultural therapy, I am excited to host another guest post on eat|breathe|garden. This time, registered horticultural therapists Kathy Carroll and Lesley Fleming talk about how a visit to a Florida public garden cultivated their networking friendship and professional work.
________________________________
By Lesley Fleming, HTR, and Kathy Carroll, HTR
Photo credits: L. Fleming & K. Carroll
What do two horticultural therapists talk about when they have a chance to go to a garden for professional development?
The historic Sunken Gardens in St. Petersburg, Florida, beckoned us as plant enthusiasts and horticultural therapists – Kathy from Michigan and Lesley from Florida: one visitor and one resident. Recognizing that time with a peer can be an opportunity for professional development as part of the continuous process of acquiring new skills and knowledge related to one's job, the visit went something like this…
The plants are amazing…
Kathy: Having visited Sunken Gardens over the last 35 years, entering this unique masterpiece of outdoor space is like coming home. Each and every time, I see new and familiar favorite plant specimens. The 50 foot high multiple plant/colored bougainvillea hedge that runs hundreds of feet long is a show stopper when in bloom. It is a reminder of the significance of a century old garden (purchased by George Turner in 1903). The psychological and sensory experience the garden offers as it wrap its arms around the visitor is a sanctuary—an anchor, which slows the frenetic pace of the 21st century just beyond its boundaries. The smells of the soils and scents of flora stimulate the senses like nothing else.
Lesley: The old growth of so many of the trees and vines, some from the original 1920's garden, is something not often seen because of the desire for perfectly shaped and sized plant specimens. This garden demonstrates how foliage and its dominant verdant green color can provide the beauty—it doesn't always have to be the Disney eye-popping color of flowers. Many Florida gardens rely on foliage, which is often associated with the tropical look.
I'm working on an article on black plants. Can you help me spot any in the garden?
Kathy: I see black seeds from Chinese fan palm (Livistona chinensis),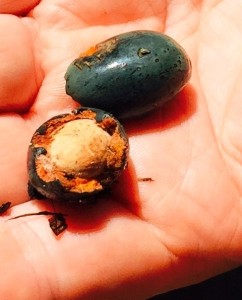 …black elephant ear (Colocasia esculenta 'Black Magic'),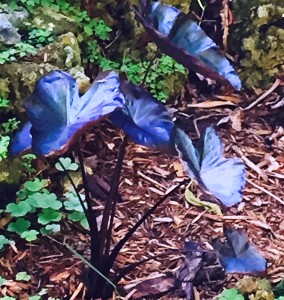 …and the tops and undersides of croton leaves (Codiaeum variegatum).
Lesley: Yes, black plants can be interpreted as dark saturated colors – browns, reds, purples, and not necessarily black per say. *Confirmation of plant identification and plant names was undertaken after the visit.
What is that plant – do you know the name?
Spiral ginger, sometimes called red tower ginger (Costus comosus)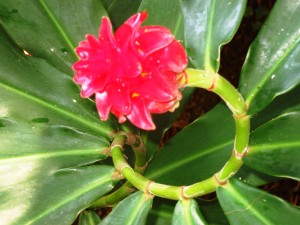 Angel trumpet (Brugmansia)  *plant parts are poisonous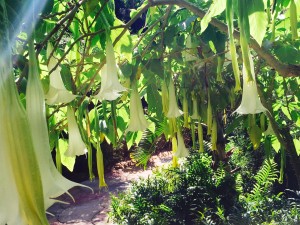 Bromeliad (Aechmea fasciata) with its pink bloom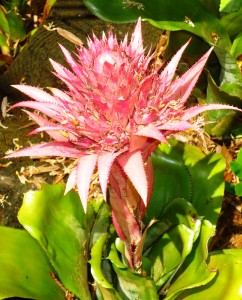 What makes the design of this garden so interesting?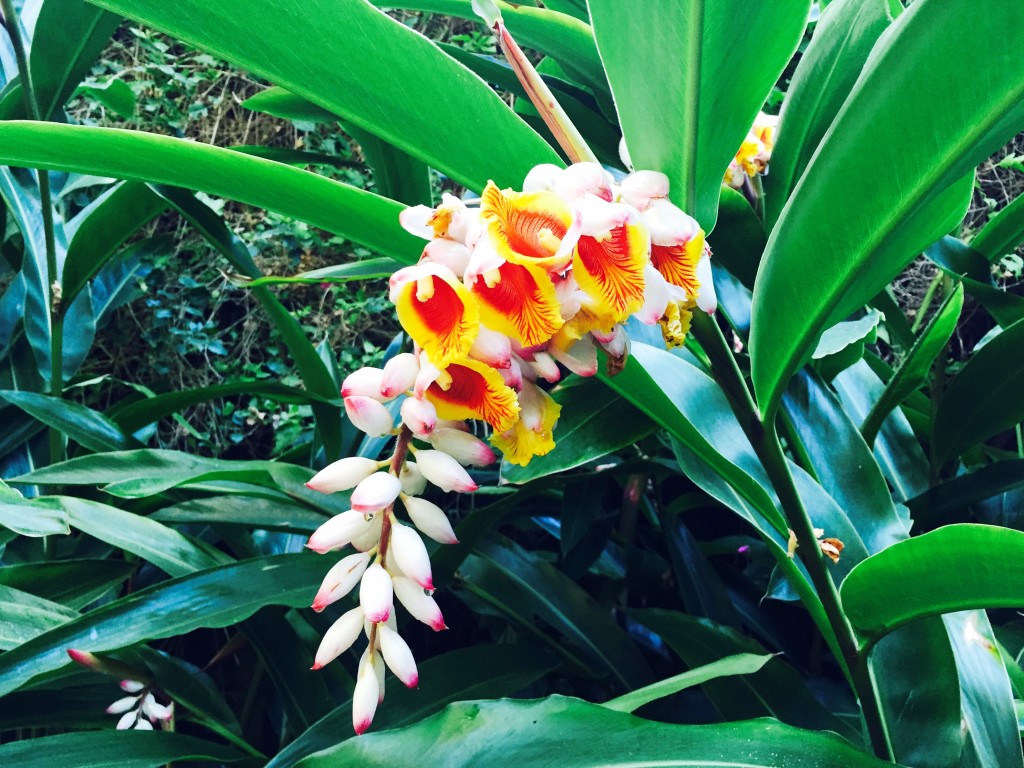 Kathy: Part of it is the history of the garden as a 1920's residential garden built from a drained lake, including a sinkhole 15 feet below street level, a "soothing rock," and very fertile soil. Their mission statement refers to the garden as a tropical forest with many of its original plants preserving and enhancing this unique tropical rainforest space. In the early 1920's, Mr. Turner was charging a nickel to tour his garden.
Lesley: Sunken Gardens offers a sense of discovery, fascination, and spatial organization — elements that Stephan and Rachel Kaplan (environmental psychologists from the University of Michigan) refer to as landscape preferences. This effectively engages the visitor through a variety of elevations and twists and turns of the paths, gates and hidden garden "rooms." The very tall plantings provide a sense of seclusion and sanctuary.
Other attention grabbers include shell gingers, mass plantings, scented gardenias (stepping off the path for that sensory experience), signage of plants though limited, and reciprocal admission from American Public Gardens Association (APGA) garden memberships.
What is that?
Kathy: What is that fragrance in the Wedding Garden, the tree with multi-colored bark, and the colorful vine?…
Lesley identified fragrant confederate jasmine (Trachelospermum jasminoides);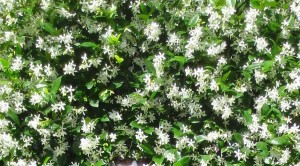 gumbo limbo tree (Bursera simaruba), which is sometimes affectionately called the sunburnt tourist tree;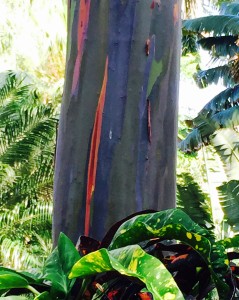 Dutchman's pipe vine (Aristolochia macrophylla), which is a larval plant for Pipevine Swallowtail and Tailless Swallowtail butterflies.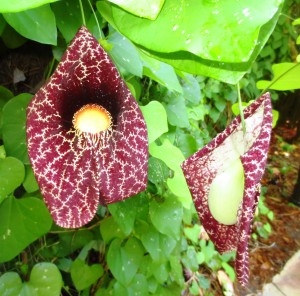 Lesley: What are those seed pods, groundcover that looks like chenille plant and those markings on stems?
Kathy identified the fishtail palm fruit (Caryota mitis);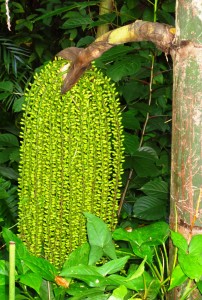 dwarf chenille plant (Acalypha pendula) [not pictured] with its shorter upright growth habit for use as a groundcover or trailing plant in a hanging basket;
the signature design left from scars on selloum (Philodendron bipinnatifidum) when leaves yellow with age and fall off.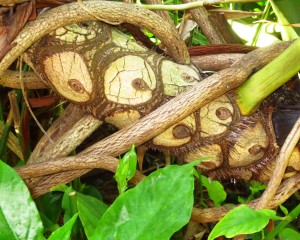 Horticultural therapy inspirations from the Sunken Gardens
Glory bush (Tibouchina) – Lesley first used glory bush at the Naples Botanical Garden in Florida, when delivering a program to people with visual impairments for soft and fuzzy tactile stimulation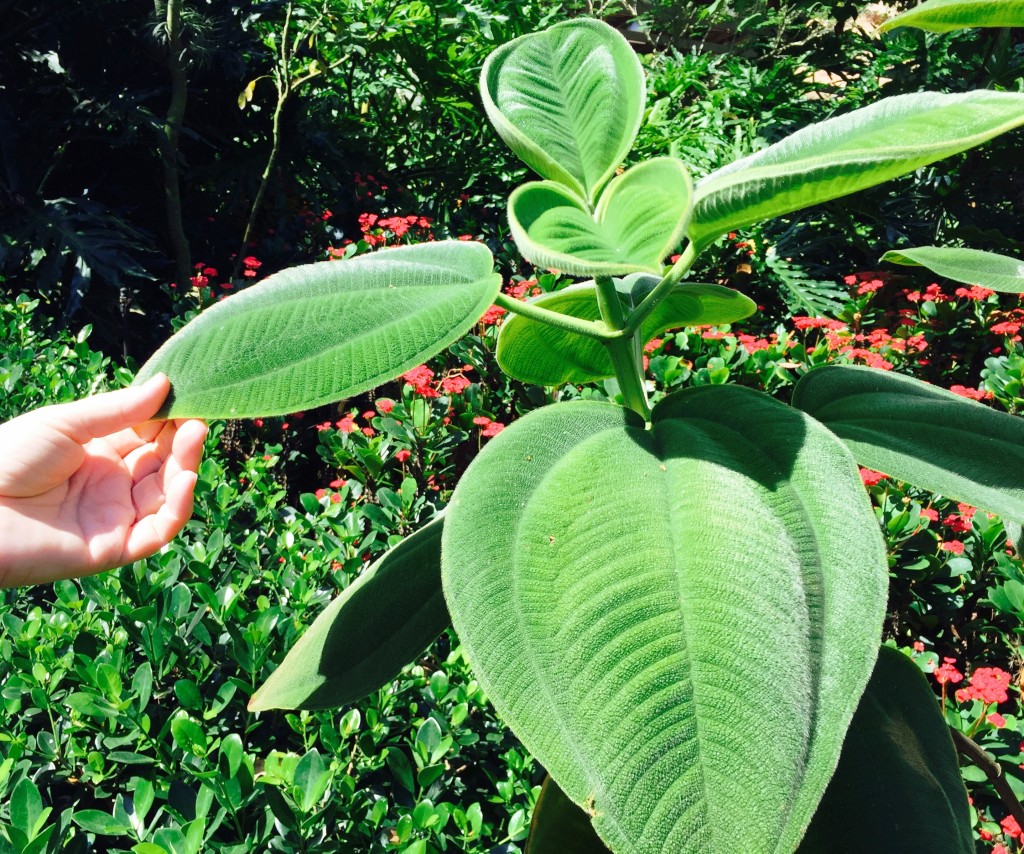 Variety of leaf shapes for leaf painting activity (therapeutic goal includes working fine motor skills – hand dexterity by tracing and painting leaves)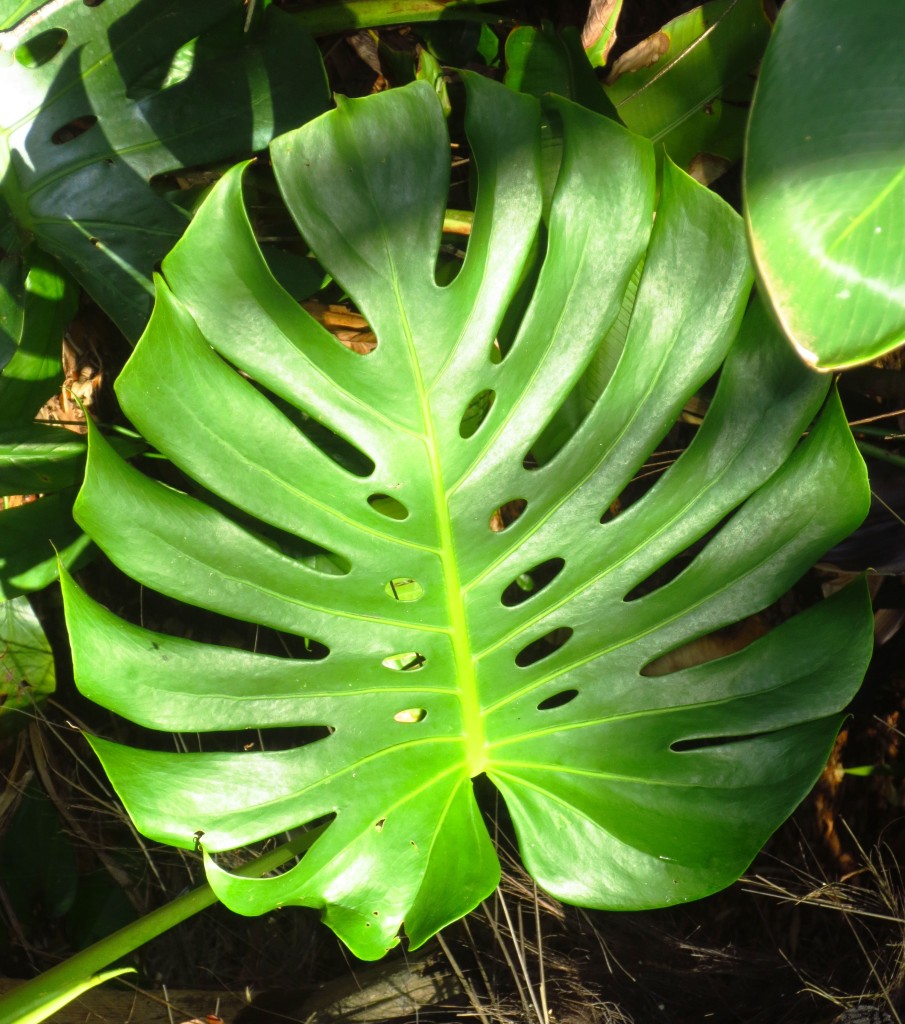 Accessible paths with manageable grades, smooth surfaces, and otherwise safe environment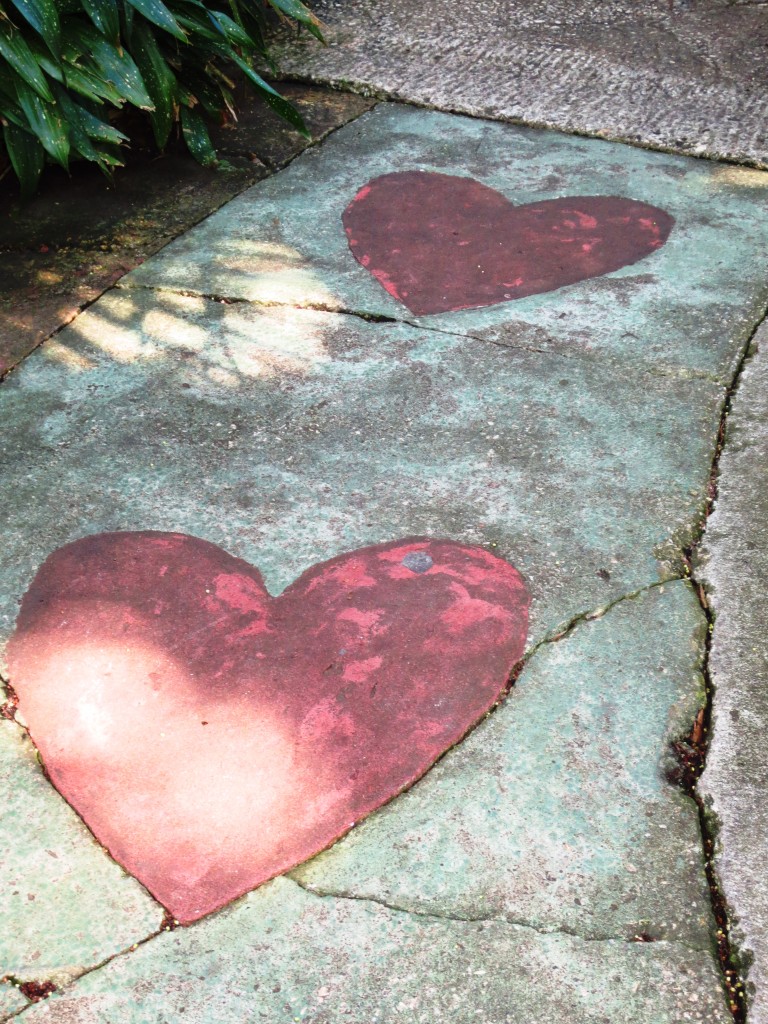 Sensory walks, including treasure hunts for numerous and varied scents, visual and tactile horticulture finds throughout the garden.
Professional development can occur in any number of settings and is made more interesting when discussion and hands-on experiences are shared with others who share a passion for their profession.
References
Brown, Sydney Park and Rick Schoellhorn. (2006). Your Florida guide to perennials: Selection, establishment, and maintenance.
Kaplan, Rachel and Stephen Kaplan. (1989). The experience of nature: A psychological perspective.