At a time when gardeners are sowing seeds in preparation for the spring garden, let's talk about seeds…basil seed in particular.
About a year ago, friend and fellow practitioner Charles Plummer of Youth with Faces told me about how basil seed can change before your very eyes, if you just add water. He had learned this from Rebecca Haller, HTM, during one of the Horticultural Therapy Institute's courses.
Somewhat skeptical, I said, "Well, what happens?"
He encouraged, "Just give it a try and see what happens."
It took me a couple more months – when I was preparing to lead a seed sowing session with one of my groups – before I was in the same room as basil seed, an eye dropper, and some water. So in taking Charles' advice, I gave it a try.
And WOW!
Did you know that basil seed can change right before your eyes in just a few seconds?
In a world of instant gratification, clients can sometimes get impatient with the "slow growing" nature of plants in the garden. This is a great opportunity for a meaningful lesson, or actually a series of lessons, on the phrase "Good things come to those who wait." The act of nurturing a plant – from seed to seedling to full grown plants that can be harvested for eating or collecting seed – can help the gardener experience the cyclical nature of life in real time. Some things just don't happen overnight…patience is a virtue.
However, at other times, an activity with instantly gratifying results can be equally as powerful and transformative. Here, watching a basil seed from start to finish can help shift a person's self-focused attention outside of themselves to something that is so tiny. In a sense, it can be incredibly grounding for one's perspective to watch a seed that's a centimeter in size transform itself. (Read more on the transformative nature of awe and the healing power of awe, supported by recently published research in the journal Emotion.)
So what exactly does the basil seed do when you add water? As Charles would say, just give it a try yourself. I'll give you a sneak peek below.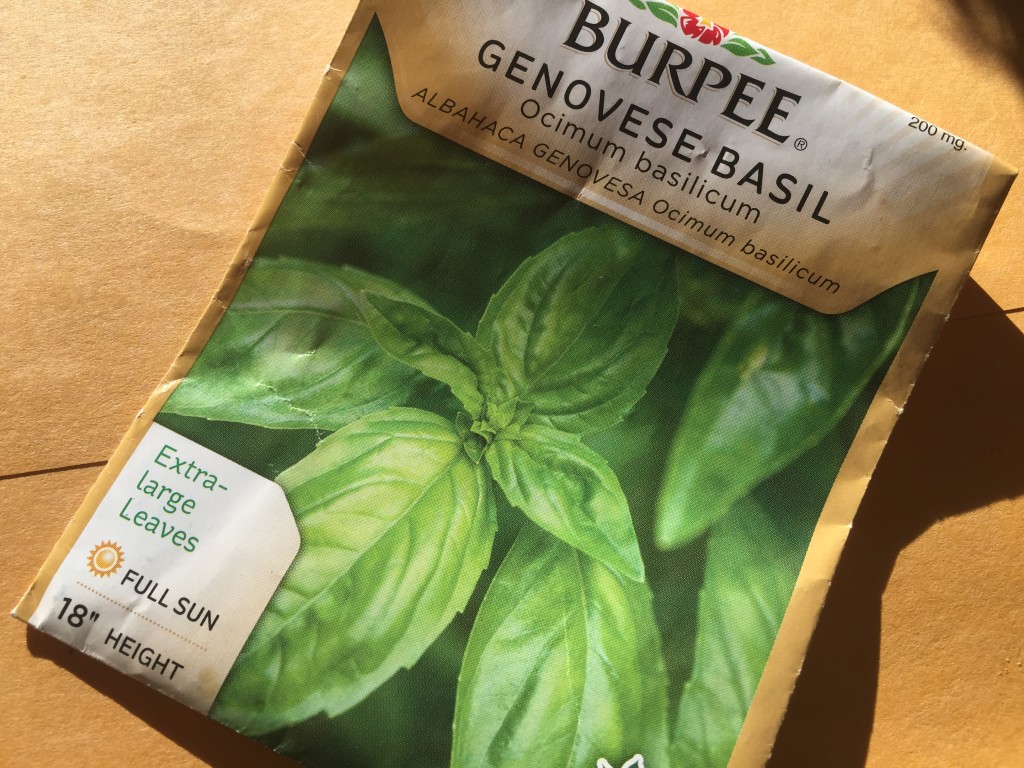 To start, gather together the following materials: basil seed (I used the Genovese type because it was handy, though I'm sure pretty much any basil seed would work), cup of water, eye dropper, and your hands.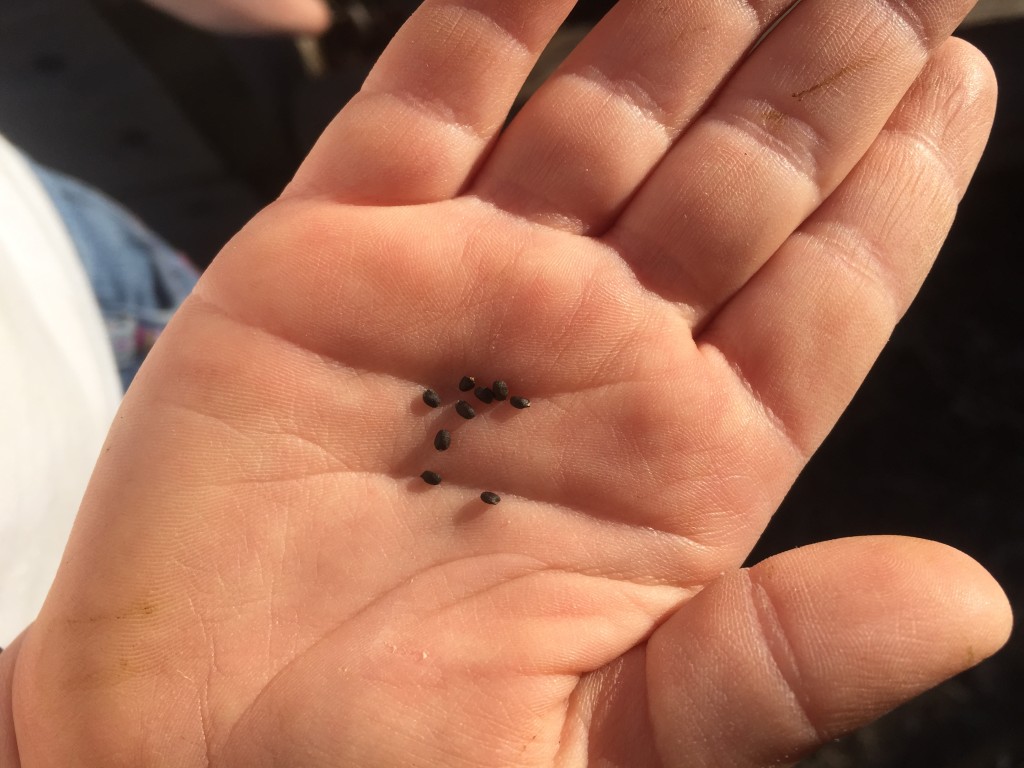 Open your hand out flat so that the palm of your hand is facing up toward the sky. Gently tap some basil seed out of the seed packet into the palm of your hand. Take note of what the basil looks and feels like at this time. The seed is tiny in size and black in color – it kinda looks like the poppy seeds that get stuck in your teeth after eating a poppy seed bagel. Use a finger from your other hand to roll the dry seed around in your hand. Focus your attention on the sensation of the seed rolling around in your hand.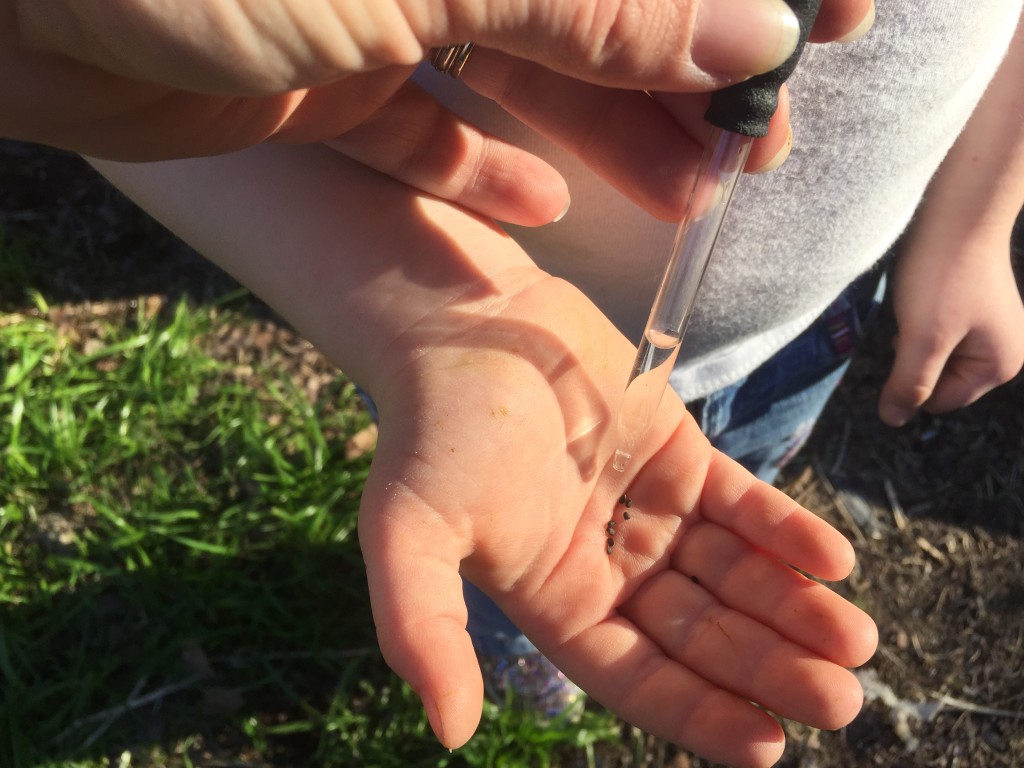 Next, get some water in your eye dropper and add a few drops of water over the top of the seed. Make sure the seed has contact with the water.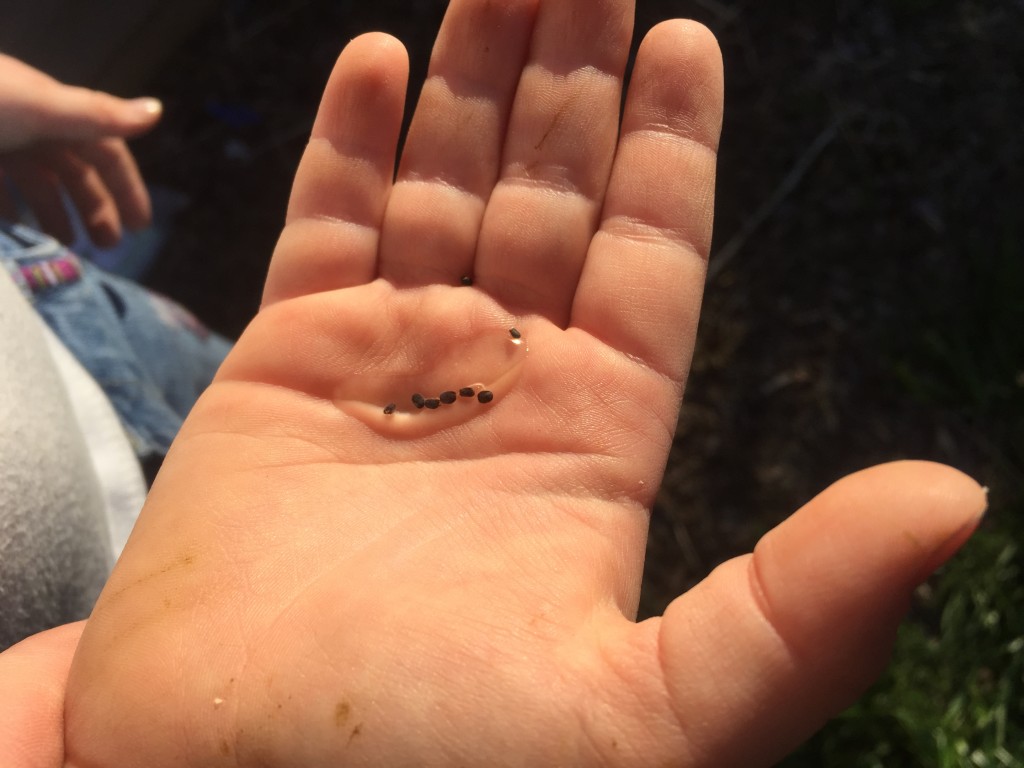 Notice how the added water feels to your skin – cool and wet. And watch.
Focus all of your attention on the seed. Be patient and watch. It doesn't happen instantly. And, don't worry, the seeds aren't jumping beans, so they won't start popping up into your face. They also don't grow spikes or turn into orange and blue polka dots.
Just watch…
And watch…
And watch until…
There! Do you see it?!?
What happened? The basil started turning a different color. What color? It's kind of a gray color, right?
Keep watching…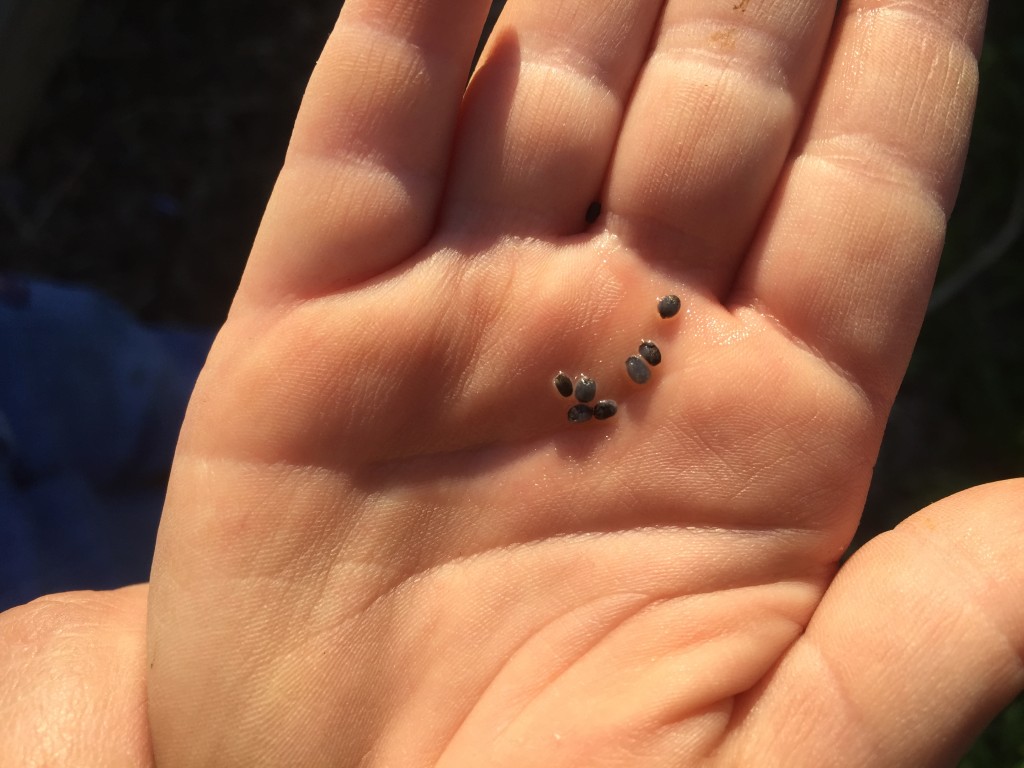 After a few seconds – at least 30 seconds, probably more – the basil seed will soak up most, if not all, of the water. The seed will have changed from tiny, black seeds to slightly larger, puffier, whitish gray seeds. If you look very closely, you can actually see the layer of seed mucilage over the seed coat.
So what is seed mucilage? It is a thin gelatinous layer that forms over seeds when exposed to moisture. Basil seeds form noticeable amounts of mucilage. You can even do this same experiment with chia seeds and notice the copious amounts of gel that form. Weird. (Read more about mucilage and its purpose here.)
After I first did this activity, I felt exhilarated and inspired to learn more about why these seeds do this – and every time I have done this activity since then, I've felt the same way. There is always a point – typically right when the water is added to the seeds – at which I think to myself, "Will the seeds change?" And then it happens.
Aren't plants amazing?